Niagara Goes Roaring On
by
Metals have been golden for Michael Scharf, who has made a bundle for himself and investors. In 1970, he founded Unimet, a specialty processor, in which he invested $450,000. Scharf took it public in 1971, raising $1.3 million, then sold it in 1973 to Consolidated Gold Fields for $14 million. In 1983, he took a 25% stake in Edgecomb Steel of New England for $4 million and took over as CEO. By 1985, it became the largest independent metals processor. In 1989, Scharf sold it to Blackstone Group for $250 million.
What does all this have to do with Niagara? Scharf now heads Niagara (NIAG), the No.1 independent U.S. producer of cold steel bars, with annual output of 300,000 tons. One New York money manager figures Niagara, now at 9 3/4 a share, could double in a year, "given Scharf's drive and experience."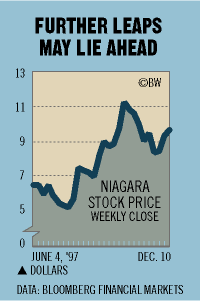 Already, he has tripled sales--with his $62 million buy in April of LaSalle Steel, a producer of chrome-plated steel bars. In the year ended Oct. 31, 1996, LaSalle had sales of $159 million and earnings of $5.6 million. The deal upped Niagara's revenues from $76 million in 1996 to $200 million in 1997. Sales should hit $250 million next year, figures one New York money pro, who sees an earnings leap from 30 cents a share in 1996 to 50 cents in 1997 and to 65 cents or 70 cents in 1998.
Scharf isn't done building up Niagara: One insider says talks are under way for a buy that could "sharply increase" Niagara's top and bottom lines. Nelson Obus, who runs Wynnefield Capital, has been buying shares and says his bets are on Scharf. Scharf has "picked a niche [in Niagara] that he understands very well," says Obus.
Before it's here, it's on the Bloomberg Terminal.
LEARN MORE