Git Along, Little Stogie
Tabacon hustles to promote its cigars to a crowded market
Edith Hill Updike
In June, 1995, Scott Samet and Douglas Chu jaunted to the Dominican Republic to choose tobacco blends for their first proprietary cigar brand. The Monthly Cigar Club the two had started in January was a hit--sales had reached $250,000. But the club only brokered other companies' brands and accessories, and the partners wanted to grow faster. "It was incredibly exciting to make something that was ours," Samet recalls. Upon returning, they founded Tabacon Cigar Co.
The market was ripe for new players. Stogie smoking was up for the first time in 20 years, and famous cigars, such as Macanudos, were scarce. Tobacconists were taking chances with new brand names. By Christmas, 1995, the company's five new brands had pushed revenues to $750,000. Sales doubled in 1996.
But the wave Tabacon has been riding also has drawn in a slew of rivals--many in just the past year. Attendance at the Retail Tobacco Dealers of America's annual trade show jumped from 4,100 in 1996 to 5,600 in 1997. Big-name makers also have ramped up, slowing demand for unknown products. Now, smoke shops, stuck with unsold no-name cigars, are "cleaning their humidors of these upstart new companies," says Ted Clark, executive director of the Tobacconists' Assn.
THE STEALTH TACTIC. That leaves Tabacon with a tough challenge: Establish its brands in a crowded market--and with limited resources. "If we were Macanudo or Partagas, no great shakes. Just make more," says Samet. Instead, "we have to be stealthy." Like many consumer companies, the small business is essentially a marketer. Distribution is key.
So the tiny upstart tried a tactic pioneered by a bigger rival. In 1996, U.S. Tobacco Co. (UST), a Stamford (Conn.)-based tobacco giant, began distributing its two cigar brands through its Stimson Lane Ltd. wine network to expand into the restaurants and bars served by wine distributors. Sales improved, but the move alienated some traditional tobacco retailers, and some now refuse to carry UST brands.
Despite the risks, the strategy made sense for a small outfit like Tabacon as a way to gain wide distribution without massive spending. Since May, the company has wooed 22 liquor distributors in 20 states with its broad product line, display humidors, training for sales reps, and national ad campaign. Sales have already increased threefold; total revenues are expected to hit $4 million this year, with at least 50% of the new sales coming through the new channels.
But rivals are also partnering with the liquor trade. Larry Zabriskie, vice-president for spirits and beers at Churchill Distributors in Baltimore, Md., says his company also carries 13 brands from two other companies because "we wanted a variety of strengths." Another drawback: While liquor and cigars are a good match, "you don't have the control you want and can end up on a back shelf," warns James Tighe, president of MarketReach in Stamford, Conn.
Samet and Chu, who are former bankers and business school buddies, recognized the danger. To avoid that fate, they encourage primary placement with liquor stores and bars by discounting display humidors (based on the percentage of Tabacon cigars carried). And to keep tobacconists happy, they require liquor distributors to have a separate staff to sell Tabacon products to smoke shops--or the tobacconist concession goes to another outfit. One pitfall that can't be avoided: the arrangement adds extra markup to Tabacon cigars, though they remain competitive at $5 to $15 each.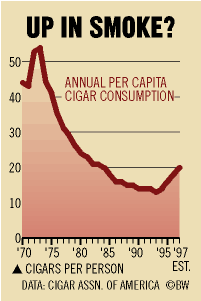 The partners are also focusing on branding. This year, they doubled their advertising budget, to $75,000, to cover full-page ads in magazines such as Cigar Aficionado and regional publications. And they're promoting their brands at cigar dinners and special events. Staff from New York's Le Cirque 2000 tried their high-end Don Jivan at one tasting. Now, it's the only cigar the trendy restaurant sells.
Although the cigar boom has been well-hyped, the long-term outlook is not bright (chart). Tabacon has to win over cigar loyalists during these good times to survive long-term. Its Rosa Blanca and Don Jivan brands may not yet be as popular as Cohiba, but Samet and Chu are fired up to get them there.
Before it's here, it's on the Bloomberg Terminal.
LEARN MORE