Echostar: Jilted, But Hardly Wilted
Who needs Murdoch anyway? The DBS service is thriving
Steven V. Brull
As corporate soap operas go, this one has been a beaut. Last February, the powerful Rupert Murdoch announced that he was marrying his satellite-TV assets to those of obscure EchoStar Communications Corp., which is controlled by upstart entrepreneur Charles W. Ergen. With Murdoch by his side, Ergen was supposed to build EchoStar into a "cosmic Armada" that would offer consumers hundreds of channels at a reasonable price.
But the match stirred up fierce cable-industry opposition, and Murdoch faced a tough approval fight in Washington. In May, Murdoch killed the deal. Jilted and outraged, Ergen filed a $5 billion breach-of-contract suit. Running short on cash, EchoStar's viability as a stand-alone concern looked bleak.
RED INK. Surprisingly, Ergen has managed not only to keep EchoStar aloft but to make it the fastest-growing satellite-TV company in the country. Along the way, slashing prices and bleeding red ink, he has perhaps ruined the economics of the satellite business. But as EchoStar survives each passing quarter, Ergen is proving that he wasn't an inconsequential figure to be discovered and then discarded by News Corp. In fact, the ordeal has made him push harder. That deal "was a false summit," says Ergen, an avid hiker who easily scales Colorado's 14,000-foot peaks. "So you catch your breath, trudge on, and say: `I can still get there."'
"There," for EchoStar, is surviving until it has enough paying subscribers to become a profitable business and one day pay down some of its groaning debt load. So Ergen has slashed equipment prices (now just $199) to add hundreds of thousands of subscribers--even though EchoStar loses money with each new heavily subsidized subscriber. In fact, it is losing nearly as much as it's bringing in. Net losses for the quarter ended Sept. 30 totaled $115.2 million on revenues of $124.8 million. Its stock, at a recent 19, is down 30% from its Murdoch-fueled peak (charts, page 84).
Even so, Ergen managed to borrow a much needed $690 million in public debt offerings in the summer and fall, at interest rates topping 12%. The betting is that EchoStar's formula--making up for the cheap price with volume--will generate sufficient cash to cover (or refinance) some $2.7 billion in debt that comes due by 2004.
It seems to be working: New subscribers are signing up so rapidly that Ergen seems likely to swing those payments. The Englewood (Colo.) company says it drew more than 105,000 new signers in September alone, and analysts say it will have 2 million subscribers by next year. With the lowest costs in the industry (all executives, Ergen included, share hotel rooms on the road), EchoStar will turn a profit once it has 2.5 million subscribers, which is expected in the second half of 1999, according to its bankers at Donaldson, Lufkin & Jenrette Inc. Since most of EchoStar's costs are fixed and have already been incurred, nearly all the revenue for additional subscribers falls straight to the bottom line. Even rivals are impressed: "EchoStar is taking a larger and larger piece of the business," says Stanley E. Hubbard, president and CEO of U.S. Satellite Broadcasting Co. "They're going to be profitable."
CRUCIAL BATTLE. One card that Ergen hopes to play to set EchoStar apart from the competition is an ability to carry local broadcast signals. Typically, satellite customers can't get their local stations, and that has been a huge hurdle to the industry's growth. Ergen expects to get Washington's approval next year to deliver local channels to local viewers. But congressional legislation giving him rights to deliver local stations elsewhere will face tough opposition from the cable guys.
Ergen is so confident that his local-signal capability will eventually prevail that he's spending more than $400 million to launch two new satellites. Once he can retransmit local channels, viewers in 20 of the largest markets will be able to watch local stations as well as niche services, perhaps including adult programming. That will cost them $4.95 a month over the average $40 monthly bill, plus installation of an additional 18-inch dish for a minimal amount. Although subscription fees will just cover the cost of the new satellites, local channels will give EchoStar a big marketing edge. "It's the difference between being able to compete with cable and being a niche player," says Ergen.
EchoStar needs to be able to offer those local signals soon because satellite-TV's advantage over cable--sharper pictures and many more channels--is gradually evaporating. Helped by a surge in cable stocks after Microsoft Corp. invested $1 billion in Comcast Corp. in May, cable companies are upgrading their networks to provide digital signals and more channels. Also, old-line broadcasters will start going digital next year, multiplying capacity and improving picture quality.
What's more, TV rivals are in far better shape than EchoStar to face tough times. The coffers of DirecTV Inc., the 3.1 million-subscriber industry leader owned by General Motors Corp., will hold nearly $4 billion in cash after its defense- and car-electronics divisions are spun off. ussb, which shares a satellite with DirecTV, has no debt on its books. Primestar Partners, with 1.9 million subscribers, is backed by heavyweights such as Tele-Communications Inc. and Time Warner Inc. (and Murdoch, who now wants to exchange his satellite assets for a big nonvoting stake in Primestar). "The goal is to get [new subscribers] sooner," says Eddy W. Hartenstein, president of DirecTV, which will boost its marketing--and lose $400 for each new subscription in 1998.
As if competition from rival satellite and cable companies weren't enough, Ergen also faces Murdoch's wrath. Ergen's $5 billion suit is scheduled to go to trial in Denver in June. Both sides are claiming the merger failed because the other negotiated in bad faith. Ergen's lawyers are mounting an exhaustive search for evidence that Murdoch backed off because of pressure from the cable industry. Ergen warns darkly that Murdoch and unnamed others would like to see EchoStar fail: "There are formidable forces out there."
News Corp.'s lawyers say Ergen simply couldn't stand to lose so much control. "If anything imperiled this combination, it was Ergen's confrontational style. He would not stop negotiating," says James E. Nesland, an attorney with Cooley Godward Castro Huddleson & Tatum in Denver, which is representing News Corp. "In the heat of lovemaking, they both talked past each other," says a senior executive at a rival company. "The morning after, they realized both wanted to run it."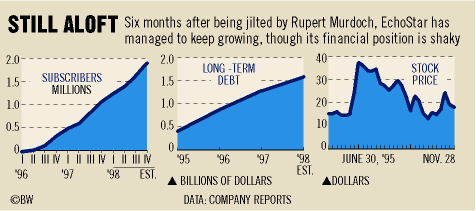 ENDGAME. Like many of the jilted, Ergen harbors hopes for a rapprochement. He would like Congress to block the transfer of Murdoch's satellite assets to Primestar because of what he feels is an overconcentration of major programming and distribution power. Then, he figures, he would get the assets after all. "Is anyone going to believe that putting Rupert Murdoch, John Malone, and Bill Gates together is...good for the American public?" Ergen asks.
The extra News Corp. satellite slots would revive Ergen's dream of assembling a powerhouse to transform the telecommunications industry. That isn't likely to happen. Even so, and against considerable odds, Ergen is pushing ahead--very much alone but still very much in the game.
Before it's here, it's on the Bloomberg Terminal.
LEARN MORE