Commentary: Off Welfare And Worse Off
Aaron Bernstein
When Semicoe Glover saw welfare reform coming in Massachusetts a few years ago, she decided to get her high-school equivalency degree at a local school. That helped the single mother of six land a job at a Salem day-care center in 1995 after 14 years on welfare. But far from lifting her out of poverty, Glover now takes home $353 every two weeks, compared with the $417 she got on welfare. She also had to buy a used car on credit for transportation to work and pay $86 a month for afterschool care for her children, age 6 to 15. To make ends meet, Glover gets groceries several times a week from a local charity. "I got this job because I knew I would be cut off from welfare," she says, "but I don't know how I'd make it without the milk and bread I get."
Glover's story is an early warning sign of what could be a disaster in the making. A year after Congress passed its overhaul of the nation's welfare system, there's increasing evidence that millions of single mothers and immigrant families are being driven further into poverty. With unemployment at 24-year lows, the problem isn't so much the lack of jobs that critics had predicted. Instead, the work many mothers find pays so little that their incomes are lower than they were on welfare. Reform has lowered the incomes of many immigrants, too, since Congress also cut their food stamps and welfare.
DELAYED EFFECT. As a result, in the midst of a roaring economy, the number of people seeking emergency food assistance has jumped a stunning 14% so far this year, according to Chicago-based Second Harvest. The group supplies two-thirds of the food distributed by the nation's 160,000 soup kitchens and food pantries to 26 million people a year. "We're finding that as people move from welfare to work, they lose child care and can't feed their families at the end of the month," says Second Harvest President Christine Vladimiroff. "So they come to church pantries for groceries." Demand for space at homeless shelters soared 12% in the first half of 1997, according to a U.S. Conference of Mayors survey of 34 cities.
Politicians should pay attention. The grim statistics suggest that the boom times have done little to improve the fate of those at the very bottom. And the $60 billion cut from support services for low-income families--an addendum to welfare reform--is exacerbating the problem. Today's economy provides ideal conditions for pushing welfare mothers to get a job. But we should spend more, not less, to help them make the transition.
And the need for help is rising. In August, 1996, Congress set a two-year deadline for states to begin cutting off benefits to those who don't get a job. Many already are moving off the rolls on their own, finding employers eager for help and wages on a slight incline. But these conditions could change quickly. The deadline for moving off welfare is approaching, portending another flood of mothers into the job market. This oversupply should effectively stall further pay rises for low-end workers. If reform is already pushing more folks deeper into poverty, "what's going to happen when there's a recession?" asks Mark Weisbrot, an economist at the Preamble Center for Public Policy in Washington, D.C.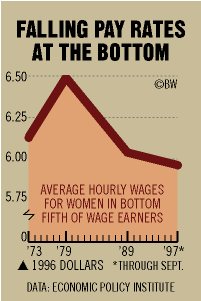 GOLDEN CHANCE. And even before this surge hits the labor market, conditions remain harsh for the lowest-skilled workers. Due to globalization, deunionization, and technological advances, their pay rates are actually lower now than at the beginning of the recovery, despite the recent uptick. For the bottom fifth of female wage-earners, hourly wages have plunged 9% since 1979, to $5.97 after inflation adjustments, reports the Economic Policy Institute in Washington (chart). And while the overall jobless rate has sunk to 4.6%, it remains high for low-skilled workers: The Bureau of Labor Statistics, for example, puts it at 22% for black female high school dropouts.
This is the best time in a generation to get people off welfare. But unless low-skilled workers get help through food stamps and with training and child care, going to work may force many people deeper into poverty. That's hardly what was intended.
Before it's here, it's on the Bloomberg Terminal.
LEARN MORE