Clipped Wings For Asia's Carriers
Soaring debt and plunging currencies curb fleet expansion
by
On a tarmac outside Seattle sit three shiny new Boeing 737s, their tails painted with the deep blue color and the mythical flying beast logo of their owner--Garuda Indonesia. These planes, however, won't be aloft anytime soon. With Garuda laboring under heavy debt, and the Indonesian rupiah down 45% since July, the airline can't pay for the 737s just yet.
The grounded planes are an apt symbol of the harsh reality hitting airlines across Asia. Plunging currencies, debt problems, and forecasts of sharply lower demand for air travel are forcing executives to rein in their sky-high ambitions. Hong Kong's Cathay Pacific Airways Ltd. is deferring orders for several Boeing 777s. And carriers in South Korea and Indonesia, whose huge debts have become more expensive to service because of recent sharp currency devaluations, are selling part of their fleets to leasing companies in order to raise cash.
A downturn in Asia can be bad news for aircraft makers. The region accounts for a full one-third of the $1.1 trillion in commercial aircraft sales projected over the next 20 years--and two-thirds of expected sales of Boeing 747s and 777s. Already, the gloom has forced Boeing to delay launching new models of the 777. Nervous investors have pushed Boeing's stock down by 8% to around $50 since Dec. 8, when word of spreading postponements surfaced. Asia worries prompted Merrill Lynch & Co. analyst Byron K. Callan to cut his 1999 earnings-per-share estimate for Boeing by 14%, to $3.60.
Boeing executives still exude confidence. After all, Boeing's biggest problem this year has been trying to keep up with a crushing backlog of 1,750 planes. So while Asian airlines are expected to postpone orders for 60 planes over the next three years, the production capacity will be used to satisfy customers in the West. Global demand is so strong, says a U.S. leasing executive, that "buyers are standing 10 deep" for any aircraft Asian carriers are willing to unload. Indeed, Boeing is convinced the planes will still be needed in Asia. "You will not see cancellations," predicts Larry S. Dickenson, Boeing's vice-president for Asia sales. Airbus Industrie executives have been making equally soothing statements.
But many analysts are not convinced the picture is as bright as manufacturers are indicating. The fear is that if the region's problems deepen, airlines will slash expansion. Established carriers like Singapore Airlines, Korean Air, and Malaysian Airlines--as well as such new entrants as South Korea's Asiana Airlines and Taiwan's EVA Airways--all have invested furiously as they compete for regional supremacy. But as their fleets swell, growth in business and tourist travel has begun to flatten (charts). Several Asian carriers have failed to exercise options for future orders.
More worrisome are Asia's mounting debts. Malaysian Airlines, for example, has $4 billion in orders and options for 13 Boeing 777s. But it is strapped for foreign currency to service its $3 billion debt. Malaysia's stock market crash forced it to shelve a rights offering, and a government austerity plan may hurt its ability to get loans.
"DESPERATE." Meanwhile, South Korea, Indonesia, and Thailand must reduce lending and imports to meet terms of International Monetary Fund bailouts. Predicts Hong Kong consultant Jim Eckes, managing director of Indoswiss Aviation: "Orders are going to be canceled by a number of airlines."
One sign of distress: Asian carriers are scrambling to sell assets. Garuda, Asiana, and others recently sold planes to leasing companies and then arranged to lease them back. While such "lease-backs" are common in the industry, the flurry of Asian deals "is a sign that these companies are desperate to raise cash," says Declan Magee, transportation analyst at ABN AMRO Hoare Govett Asia.
Take Korean Air, which has sold one Boeing and four Airbus jets for $185 million, with plans to sell three 747s next year. These deals should only put a small dent in KAL's massive $5.5 billion in debt, 90% of which is in U.S. dollars. Last year, Korean Air lost $190 million. And with the won's 40% fall against the dollar this year, and growth in the local economy set to plunge because of the terms of the IMF bailout, KAL's losses could triple this year, according to Seoul's Ssangyong Investment & Securities.
VULNERABLE SPOT. Even seemingly healthy carriers may become vulnerable. EVA Airways, backed by Taiwanese shipping giant Evergreen, recently said it will buy seven Airbus 340 series jets, boosting its fleet to 37. "Everything is still according to plan," says spokesman K.W. Nieh. But consultant Eckes notes that most of EVA Air's financing comes from Tokyo--and Japan's Ministry of Finance is pressuring banks to curtail offshore lending.
China has remained a bright spot. Its carriers ordered $3 billion in Boeing planes during President Jiang Zemin's recent visit to the U.S. It also has healthy foreign reserves and a stable currency. In the next 20 years, Boeing expects $124 billion in orders. But here, too, observers are becoming skeptical. Chinese airlines also rely heavily on Japanese banks, and passenger growth has slowed from double digits to 5%.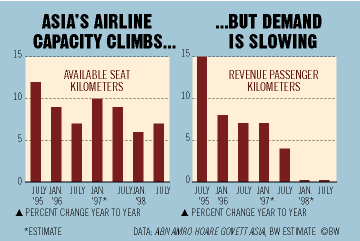 To be sure, it's not all dark skies in Asian aviation. Carriers like Singapore Air and Cathay, while suffering from slower sales and slumping stock prices, remain among the world's best managed and are well positioned to grow when the crisis abates. The turbulence also is likely to prompt executives to build alliances with other global players and teach Asian airlines to become "much more disciplined, rather than invest massively in new planes all the time," says Jean-Louis Morisot, Singapore-based transportation analyst for Goldman Sachs & Co.
Those measures may work in the long term. But for the next few years, Asia's airlines will have to cope with the excesses of the boom years. That means there may be many more jets stranded on the tarmacs.
Before it's here, it's on the Bloomberg Terminal.
LEARN MORE