Chile: The Asian Flu Chills The Peso
Lake Sagaris
Chile, one of Latin America's most disciplined economies and most dynamic exporters, will likely be hit by the downturn in Asia, which buys one-third of its exports. But by forcing a minidevaluation of the Chilean peso, the meltdown has helped officials lick one policy dilemma: an overvalued currency.
In the past four years, the Chilean peso appreciated by 30% against the U.S. dollar. Until the Asian crisis hit, the peso had risen 8% this year alone (chart), driven by a $4 billion inflow in foreign investment, most of it in mining.
The appreciation has hit Chile's exports, which have diversified from largely minerals to such goods as fruit, wine, salmon, and printed materials. These exports have grown by 30% or more in recent years, so that exports now account for 40% of gross domestic product. But manufactured-goods exports are not growing this year. And the drop in Asian demand could push Chile's current-account deficit up from 3.8% of GDP in 1997 to a worrisome 5% next year. Slowing exports is why officials had been concerned about the peso's overvaluation. But in recent weeks, they have intervened four times in the market to keep the dollar below 440 pesos in order to avoid inflationary pressure.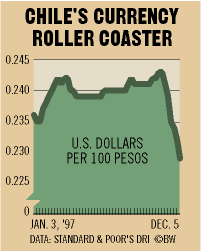 Still, Chile is in good shape. It boasts a fiscal surplus that is 1.3% of GDP. Its foreign-currency reserves exceed 10 months' worth of imports. And the country is almost alone in Latin America in requiring minimum periods of investment for foreign money to protect markets from quirky, hot-money flows. Also, even with the Asian turbulence and a drop in world-copper prices, Chile is expected to rack up 6% economic growth in 1998--nothing to sneeze at. Even so, Chileans are looking into ways to boost savings and remain fiscally prudent to protect the small economy from external shocks.
Ironically, Asia's woes took some of the pressure off of Chilean officials, who had run out of policy measures to weaken the peso. Now, they hope, the Asian crisis won't be so great as to harshly affect Chile's export machine.