A High Tech Gem In The Rough
By
With technology stocks so volatile, is it time to run for cover? That's no way to win, argues John Skeen, who is buying tech stocks as they come under more pressure. "Technology stocks aren't homogeneous--certain high techs will emerge as winners in this kind of market," says the research chief at NationsBanc Montgomery Securities in San Francisco.
Always looking for gems in the rough, Skeen's newest find is Sanmina (SANM). It's taking advantage of the outsourcing trend in electronics, notes Skeen. Sanmina provides one-stop shopping for services--from engineering design to integration and testing.
A top provider of customized services, Sanmina makes printed circuit-board assemblies. Components such as integrated circuits, capacitors, and microprocessors are mounted on these boards.
One reason for the robust growth, notes Skeen, is that Sanmina serves four rapidly expanding markets: telecoms, which generate 56% of sales; data communications, 20%; industrial and medical instruments, 19%; and computers, 5%. Among phone customers are DCS Communications, Alcatel, and Northern Telecom. In data communications: Cisco and 3Com.
For two years, annual sales growth has been a torrid 50%, he says. And earnings are expected to jump to $3.55 a share for the year ending Sept. 30, 1999, up from an estimated $2.87 in fiscal 1998, says NationsBanc Montgomery's Paul Fox. Sanmina earned $2.07 in 1997.
Like most tech stocks, Sanmina has seesawed lately. After hitting 90 in September, the stock has traded between 63 and 75 in the past few weeks. But that's way up from its low of 38 in March. Exposure to Asia has battered a slew of high techs, but Sanmina has no direct involvement in that region.
Skeen is unfazed by downward pressure on the stock, which closed at 64 on Dec. 10. He believes Sanmina will hit 110 to 120 in 12 months.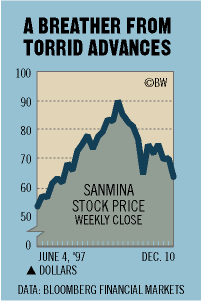 Sanmina's acquisition in October of Elexsys International is expected to add 16 cents to 20 cents to earnings in fiscal 1998. Merger-related costs will amount to 6 cents to 7 cents a share, which will be reflected in the first quarter of next year. Elexsys, a maker of back-panel assemblies and circuit boards, had sales of $156 million and earnings of $8.3 million in the 12 months through June 30, 1997. Sanmina, says Skeen, should benefit from cost savings and increased sales. Among Elexsys' customers: Lucent, QUALCOMM, and Tellabs. There's little overlap in their customer lists, he notes.
Before it's here, it's on the Bloomberg Terminal.
LEARN MORE