A Good Economy But Not For All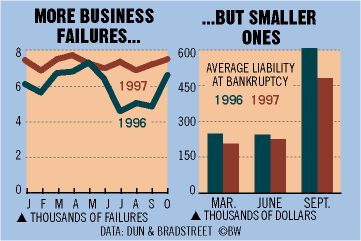 At first glance, the news is grim. Dun & Bradstreet Corp. data show business failures through October are up 22% this year over last year, with total debt owed up 51%. Take out a few major failures, though, and the average liability of bankrupt outfits is down. That suggests the firms going under are small. John Lonski, senior economist at Moody's Investors Service, suggests these firms succumbed to cash flow troubles stemming from growth, the labor squeeze, and price pressures. Silver lining: Survivors get freed-up talent and chances to consolidate. Overall, Lonski notes, smaller companies outperformed larger ones in the third quarter.
Before it's here, it's on the Bloomberg Terminal.
LEARN MORE