Wackenhut Goes Directly To Jail
The company is scoring in the prison biz, at home and abroad
by
When plans for a 600-bed minimum-security prison for Victoria, Australia, landed on the desk of George C. Zoley in the spring of 1996, the CEO of Palm Beach Gardens (Fla.)-based Wackenhut Corrections Corp. wondered what his executives could be thinking. Included in Wackenhut's bid were three swimming pools, a meditation lake, and even a "town center" where inmates could shop and attend classes. Such amenities in a U.S. prison would be criticized as "coddling" offenders, and Zoley worried until his staff explained that they fit Victoria's progressive incarceration philosophy. Despite doubts, Zoley left them in the plan--and Wackenhut got the contract.
Such cultural sensitivity has helped turn what Zoley calls the exporting of "a sound low-tech business" into a moneymaker. It has also turned Wackenhut into a fast-moving up-and-comer in the private prison business. Second only to Corrections Corporation of America (CCA) in the U.S., Wackenhut is capitalizing on its international dominance and an expanded range of services to fuel breakout growth. A $62 million spin-off with scant earnings four years ago, analysts expect Wackenhut's revenues to climb 51%, to an estimated $208 million in 1997. Net income should rise 21%, to $11.7 million.
Even better, much of that growth has come at the expense of CCA. In July, Wackenhut beat out its bigger rival to win a $300 million, 10-year contact to run a federal prison in Taft, Calif.--the first time the feds have turned a jail over to a private contractor. All told, with plans to add 11,000 prison beds in 1998--a 69% jump--analyst Brian W. Ruttenbur of Equitable Securities Corp. expects revenues to jump an additional 52%, to hit $317 million next year. Wackenhut also appears well-placed for a contract to be awarded in South Africa early next year, as well as planned contests in Jamaica and Canada. Boasts the hard-charging Zoley: "If we maintain our market share and growth rate, we will be a $1 billion company or more by 2004."
"GIGANTIC OPPORTUNITY." Zoley has the tremendous overall growth in private prison contracts to thank for that. Beset by rising prison populations, governments are turning to private companies to build and operate their jails. Innovative facility design that uses fewer people and more technology to monitor inmates and lower labor costs have helped privatizers meet tough cost-savings goals.
Over the philosophical objections of unions and prisoner advocates, 25 states have privatized at least one prison. There's likely to be plenty more ahead: Today, private prisons house less than 3% of the 1.7 million U.S. prison population. But Charles W. Thomas, director of the Private Corrections Project at the Center for Studies in Criminology at the University of Florida, estimates average annual growth in private prisons of 25% over the next five years.
That has hardly gone unnoticed on Wall Street. Now trading at 28, Wackenhut's shares are up 32% this year. "There's a gigantic opportunity, and I expect both [CCA and Wackenhut] are going to flourish," says mutual-fund manager Ronald Baron, president of Baron Capital Management Inc. "It's not a bad thing to be second in an industry growing at this pace."
Indeed, Wackenhut is succeeding, in part, by being a smart follower. In the U.S. market, CCA took over the lead in 1994 by aggressively making acquisitions and providing capital to build prisons to cash-strapped states. It even built prisons on speculation, often to house out-of-state inmates. This year, CCA went even further, completing the first prison real estate investment trust and gaining $400 million to finance more building.
To catch up, Wackenhut is following suit--even as it goes its rival one further. Throughout the U.S., it's adding to the prisons it builds, finances, or owns, and it, too, is considering a prison REIT for 1998. But Zoley has also been quick to expand Wackenhut's skills into new areas of incarceration: In 1997, Wackenhut bought a Fort Lauderdale (Fla.) psychiatric hospital, for example, and took on contracts to run a psychiatric prison in Mississippi and a juvenile maximum-security prison in Michigan. Unlike some rivals, Wackenhut will provide services a la carte for authorities who want to privatize only part of their prisons.
FOREIGN AFFAIRS. Moreover, Zoley's real ace is international. Although only one in 10 new private prison beds will come outside the U.S., Wackenhut dominates the lucrative overseas market. International now accounts for 20% of Wackenhut's revenues and 30% of its profits. Building on the reputation of parent and 55% owner Wackenhut Corp., which employs security guards in more than 50 countries, Wackenhut Corrections has succeeded abroad by building and running prisons and providing additional services such as prisoner transport and health services.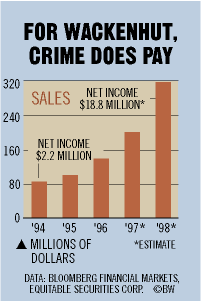 So far, the company has also successfully negotiated the risks of foreign markets. Hit by a rash of suicides in its Arthur Gorie (Australia) facility in its first 18 months and a year of violence in its Doncaster (England) prison, Wackenhut was forced to change its practices. It increased monitoring of high-risk inmates and guard training, and it has replaced American managers with local hires to help resolve cultural conflicts. The move has helped at Arthur Gorie, where outsiders say Wackenhut has become more sensitive to indigenous cultures. As it expands to less industrialized nations, business may be riskier, but that's a bet Zoley is willing to take to make Wackenhut itself a company worth following.
Before it's here, it's on the Bloomberg Terminal.
LEARN MORE