U.S.: Sizzling Growth Is Keeping This Expansion Warm
by
Low rates, record profits, and flush consumers are stoking the flames
After three quarters of scorching growth, the economy's fire was supposed to be dying down by now. Consumer exhaustion, higher interest rates, and a strong dollar were expected to slow demand. Instead, growth this quarter looks nearly as hot as it did in the third, when real gross domestic product grew at a revised 3.3% annual rate. If anything, the economy has more fuel now than it did last spring.
The newest tinder: falling long-term interest rates. The average yield on the 30-year Treasury bond is quickly approaching 6% (chart), pulling all other long rates down with it. Cheaper financing will give the green light to additional business investments, keep housing on the rise, and induce more homeowners to refinance their mortgages, giving consumers more money to spend.
Plus, the stock market has begun to shrug off worries about Asia. The Dow Jones industrial average closed above the 8000-mark on Dec. 1 for the first time since Oct. 15. Even the economy's chief worrier, Federal Reserve Chairman Alan Greenspan, downplayed Asia's potential effects on the U.S. expansion in his speech on Dec. 2 in New York.
At the same time, businesses and consumers are making more money. Thanks to better productivity and strong demand, profit margins hit another peak in the third quarter. And solid job and wage growth lifted personal income in October. True, not all workers are seeing their pay rise, and not all corporations are posting record profits. But for the economy as a whole, the current financial conditions are hardly the kind to quench the economy's fire.
THE ECONOMY'S MOMENTUM clearly has not gone unnoticed by the folks at the Fed. Greenspan and other policymakers know that the economy is at a point where it is using almost all of its available resources.
For now, price pressures remain stone cold. But if yearly growth remains above 3%, businesses will be vying more fiercely for limited supplies and labor. And that competition paves the way for production bottlenecks and faster wage gains. Imports have taken some of the pressure off production constraints. But the tight labor markets will remain a source of concern for inflation hawks at the Fed and elsewhere. In its Beige Book, the report on regional economies, the Fed said that growth was "moderate," and price pressures were few. But the book also noted that "virtually all regions are experiencing tight labor markets, with some reporting increased wage pressures in specific markets and occupations with labor shortages."
So far, though, the industrial sector has been meeting demand without any serious problems. The nation's purchasers reported that overall business activity slowed only slightly in November. The National Association of Purchasing Management (NAPM) index--a measure of production, employment, orders, inventories, and delivery times--dipped to 54.4% from 56% in October. But the November reading is consistent with real GDP growth of 3.7%. The purchasers reported that hiring and export orders increased in November, and production grew last month, though at a slower rate than in October.
The report did hint at some fissures in the production pipeline, noting that inventories continue to be drawn down, and businesses are taking longer to fill orders (chart). Both are signs that even with increased output, producers are becoming unable to satisfy demand easily.
A rising backlog of orders also suggests that businesses have fallen behind. The Commerce Dept. reported that durable-goods orders slipped 0.3% in October. But because shipments fell by a bigger 0.7%, the backlog of unfilled orders rose by 0.3%, to its highest level in 5 1/2 years. The large backlog will keep production rising into 1998. But it also means that delivery times will probably grow even longer.
LOOKING AHEAD, NEW ORDERS are likely to bounce back in coming months because demand is still high. Real consumer spending for goods and services rose 0.4% in October despite a big drop in outlays for motor vehicles and parts. The October gain means that real spending began the quarter at a 2.1% annual rate above its third-quarter average. That's pretty respectable considering that households pumped up their purchases at nearly a 6% clip in the summer quarter. Excluding vehicles, real outlays are growing at a 2.5% pace, after a 4.6% gain in the third quarter.
Consumers should increase their spending in the last two months of the year. Early reports for this holiday season show that shopping is off to a modest start. But buying momentum will likely build as Christmas nears, because the strong job markets are sparking real gains in incomes. Real disposable income rose 0.3% in October. Over the past year, real aftertax earnings are up 3.5%, the fastest rate in 2 1/2 years.
Strong consumer fundamentals are also buoying housing. New single-family home sales fell 1.7% in October, to an annual rate of 797,000. But September sales were revised up from 800,000 to 811,000. Home buying this year is running well ahead of 1996's pace. And with falling long-term rates and rising incomes, demand will remain sturdy since more consumers will be able to buy a house.
Demand is already so strong that the inventory of unsold homes is low by historical standards. As a result, building activity is picking up. Outlays for residential construction rose 0.7% in October, leading the 0.1% gain in all construction spending.
CONSUMERS ARE NOT the only ones feeling a bit more flush. Businesses continue to do extremely well in 1997. Operating profits of nonfinancial corporations in the third quarter increased a sizable 5.3% from their second-quarter level. Earnings last quarter were 11.7% higher than a year ago, the best gain in a year.
Equally important, businesses are squeezing more earnings out of every dollar of revenue. Profit margins--operating profits per unit of real output in the nonfinancial corporate sector--rose to a record 14.9% last quarter, from 14.4% in the second quarter (chart). Higher margins suggest that when economic growth slows, as it eventually will, profits may not drop as much.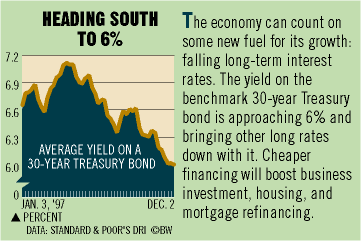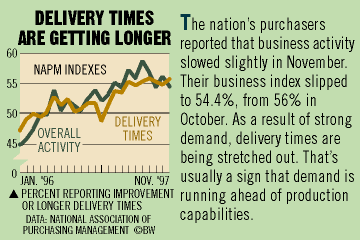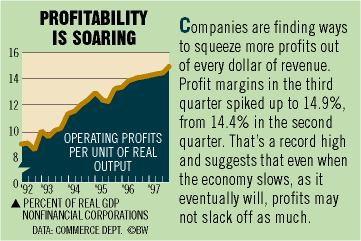 The extra cash will likely be put to use by investing in more equipment, building more facilities, or disbursing bigger dividends. However, corporations also face the prospect of paying higher wages, and that cost pressure is unlikely to change until growth dampens.
Right now, though, the economy shows few signs of slowing. Growth continues to roar, feeding on the kindling of strong consumer fundamentals, record profits, and rising financial markets. As the economy's fire warden, the Fed will have to take action to cool off that demand. If it does not, policymakers know that some wayward sparks from the demand fire could well cause wage and price pressures to start smoldering.
Before it's here, it's on the Bloomberg Terminal.
LEARN MORE