Talking The Customers' Lingo
by
More companies, particularly blue chips, are turning to outside suppliers for marketing help--mainly in selling to ethnic groups and other hard-to-reach consumers. Serving that niche is Snyder Communications (SNC), which designs complete marketing programs aimed at reaching "high-value" and fairly inaccessible customers.
Snyder's stock, after hitting a low of 20 in mid-April, rebounded to 34 on Dec. 2. Based on a 1997 earnings estimate of 46 cents a share, the stock trades at a lofty price-earnings ratio of 73. So the stock could be vulnerable in a market pullback. Nonetheless, investment pro Andrew Lanyi, who heads Lanyi Research at CIBC-Oppenheimer, thinks Snyder is on the way to 55. "A high p-e doesn't scare me, so long as strong earnings visibility is there," he argues.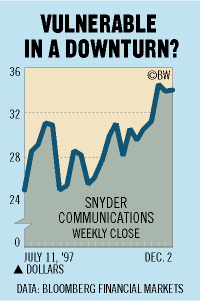 He thinks the company, whose database has 30 million students in the U.S. and 20 million multicultural consumers--such as Hispanics and Russians--will continue to grow fast. One client, AT&T, accounts for 20% of its business. Talks are under way to renew its contract with AT&T, which ends at yearend. "Snyder is almost certain to get not only a renewal but a much bigger contract from AT&T," says Lanyi. AT&T declined comment. Other big clients: Procter & Gamble, Kellogg, and Pfizer.
Through acquisitions and internal growth, Lanyi sees earnings of 46 cents a share this year and 77 cents next year, up from last year's 18 cents.
Before it's here, it's on the Bloomberg Terminal.
LEARN MORE