Sun Hotels May Be Set To Rise
by
Aside from stocks involved in buyouts, casinos were a bad bet this year. The gambling group went nowhere--while the market broke records. Sun International Hotels (SIH), for one, a Big Board-listed outfit in the Bahamas, was trading at 40 on Dec. 2--where it was at the start of the year, after slumping to 30 in September. But some investors think Sun is about to make major moves--and are buying shares.
What's going on? "A relatively unknown manager, Sol Kerzner from South Africa, has been sprucing up Sun International," notes a New York investment manager who is buying. Chairman and CEO Kerzner is expanding Sun's flagship--Atlantis Resort & Casino on Paradise Island in the Bahamas--and its Resorts USA hotel in Atlantic City. This means "a huge explosion in profits is forthcoming," says the money pro. Other big investors: Fidelity Investments with 10% and Trust Co. of the West with 6%. Kerzner controls a 40% stake.
Sun's third-quarter earnings shot up from 26 cents a share to 51 cents, buoyed by management fees from its Mohegan Sun Casino in Connecticut. Sun also says Paradise Island had "above-average luck" in this year's third quarter. Fourth-quarter earnings are expected to cool to 42 cents, vs. 38 cents a year ago.
For all of 1997, analysts expect $2.12, vs. last year's $1.51. Next year isn't expected to be much better, because of outlays for improvements. Sun is spending $450 million on a 1,200-room hotel in the Bahamas and $150 million for expansion in Atlantic City.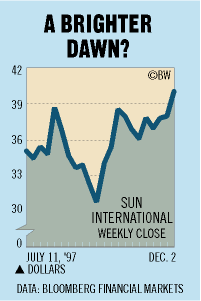 But profits should begin to soar in 1999. "Our estimate for a flat year in 1998 notwithstanding, we expect Sun to more than double its room count and cash flow by 2000," says Mark Manson of Donaldson Lufkin & Jenrette Securities. "We're confident," he says, that Sun "will prove to be a good investment for those with a longer horizon." He sees the stock at 50 to 60 in 12 to 18 months and expects profits of $3 a share in 1999 and $3.75 in 2000.
Adding to the optimism is Sun's new joint venture with Vistana to develop 375 time-share units on Paradise Island. Sun has also updated its 1995 tax-incentive deal with the Bahamian government, which will produce $6 million in tax savings for Sun in 1998, which should boost earnings by 15 cents to 20 cents a share, figures David McDonald of NationsBanc Montgomery Securities.
Before it's here, it's on the Bloomberg Terminal.
LEARN MORE