Rough Waters For Exporters
The strong dollar is threatening profits
Gary Mcwilliams
It's the little engine that keeps chugging along. Jeep Wranglers ply the streets of Bangkok, American pork chops sizzle on Tokyo grills, and Boeing jets criss-cross the planet. In the past six years, U.S. exports have surged 46%, to $915 billion annually. These gains have proved the competitiveness of U.S. industry, pushed corporate profits to 30-year highs, and helped drive unemployment to a 24-year low. Growing demand for U.S. goods has helped keep the economic expansion going for a stunning 6 1/2-year run.
Now, the engine is downshifting. For the past six months, exports in nominal dollar terms have been flat. On Dec. 3, the Federal Reserve said turmoil in Asia has "adversely affected" demand for exports. And the strong dollar makes some U.S. goods too expensive to sell--or forces American manufacturers to swallow big price cuts. On Dec. 1, the dollar hit a 5 1/2-year high against the yen.
Will this be enough to halt the advance of corporate earnings and perhaps derail the economy in 1998? Most economists think not. Based on predictions that exports will grow at half the 12% rate of 1997, economists are shaving just half a point off 1998 gross domestic product projections. At around 2.3%, growth already was expected to drop by a third from this year's rate.
The macroeconomic effect, in fact, may be desirable. "We've been growing faster than has been thought desirable," says Robert G. Dederick, economic consultant at Northern Trust Corp. Slower export growth, then, may take pressure off labor markets, reducing wage demands and keeping inflation--and potential interest-rate hikes by the Federal Reserve Board--in check.
BITTER PILL. But what's good medicine for the economy is a bitter pill for corporate profits. Exports of everything from forest products to telecommunications gear have trailed off in recent months. On Dec. 2, 3Com Corp. said slowing Asian sales would contribute to a disappointing quarter. Nordson Corp. CEO Edward P. Campbell says earnings at the Westlake (Ohio) machinery maker will take a 10% hit in annual results because of the dollar's climb. "It was the most significant effect in over 10 years," he says. Across the economy, a new Salomon Brothers Inc. report predicts, growth in corporate profits will slow to only 2% by this time next year, down from the double-digit gains achieved since 1993.
Still, U.S. companies are not ready to pull back from the global market. They're laying plans to keep up overseas growth--no matter how high the dollar goes. "Anyone who tampers with their strategy for economic cycles or momentary blips doesn't belong in that environment anyway," says Jeffrey T. Grade, CEO of Harnischfeger Industries Inc., a Milwaukee-based machinery exporter. For example, Ingersoll-Rand Co., another industrial-equipment supplier, is having trouble matching the prices of Japanese rivals in Asia now. So it's considering exporting to Asian customers from a Chinese plant to get around the dollar hurdle.
The rising dollar--and falling currencies in export-driven Asian economies--pose problems for U.S. companies at home, too. Already this year, U.S. auto makers have been forced to resort to rebates and other sales incentives. And apparel companies have shut U.S. production lines in the face of competition from lower-cost rivals. Fruit of the Loom's Nov. 11 announcement that it would fire 2,908 U.S. employees to lower costs was preceded by similar moves at Levi Strauss and Haggar.
Expect more of the same in 1998 if the U.S. trade deficit hits a projected $170 billion. As a result, "you will have a lot of people feeling they've lost their jobs to imports," says Massachusetts Institute of Technology economist Lester Thurow. "The biggest impacts are apt to be political. The public's willingness to put up with a big surge of Asian imports will be limited." Indeed, trade hawks already are bemoaning the loss of U.S. jobs to low-wage areas.
WORRIED EYE. Can the economic expansion continue if the export surge ends? Exports traditionally play a crucial role late in an expansion, says Gordon R. Richards, an economist at the National Association of Manufacturers. When consumers get tapped out, exports carry on the expansion for a year or more. "If exports slow, it means domestic demand has to carry the burden," he says.
That has economists casting a worried eye at consumers. While Thanksgiving weekend shoppers were out in droves, confidence could be severely tested in the months ahead. The reason is that no one knows how the stock market will respond to a likely slowing in earnings growth next year. "Near-term, there is likely to be a lot of disappointment," says Chase Securities Inc. Senior Economist James E. Glassman. "My guess is we'll see declines [in profits] in the first half of the year," he says. If he's right and profits decline instead of slowing, the inevitable correction in U.S. stocks could put a damper on the second half of next year.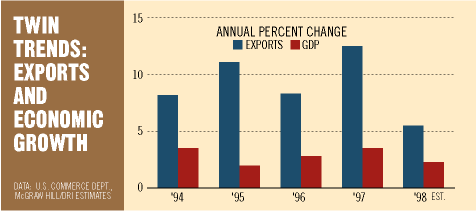 Consider the petrochemical business. Exports began a slide earlier this year, says Gary Adams, president of consultants Chemical Market Associates Inc. While domestic demand propped up the industry, Adams doesn't expect that trend to continue in 1998. "The U.S. is the last of the major regions to fall into the downside of the commodity cycle," he says. He expects petrochemical industry profits, strong since 1994, to fall 10% next year even as lower crude oil prices reduce costs.
So the little export engine must climb a mountain of high dollars and stiff price competition, and it must travel amid precipitous swings in market demand. Is this still the little engine that could?
Before it's here, it's on the Bloomberg Terminal.
LEARN MORE