Microprocessors Are For Wimps
Motorola plans an end run around Intel with systems-on-a-chip
Gary Mcwilliams
Last July, while pundits were still clucking about Motorola Inc.'s decision to abandon the market for DRAMs, the workhorse memory chips in computers, a far more dramatic change had already begun. It emerged inconspicuously enough: Motorola moved the headquarters of its $7.8 billion chipmaking operation from Phoenix to the Austin (Tex.) home of its microprocessor business. But the move signals a key turning point. Motorola, which has long offered an alternative to Intel Corp.'s microprocessors, has decided to slink away from the 23-year battle for desktop computers.
Its new strategy--taking shape under Hector de J. Ruiz, the Semiconductor Products Sector's new president--calls for it to concentrate on customized, highly integrated circuits. With Apple Computer Inc.'s share of desktop computers dwindling, Motorola has given up dreams of winning big against Intel.
ALL-IN-ONE. Instead, Motorola will focus on other markets, crafting new chips for the specific needs of individual customers or products. The company will tap its portfolio of 50,000 chips, including the PowerPC microprocessor, to compile a huge catalog of modules and components for building complete "systems on a chip." These chips will merge memory, logic, and other circuit types onto one silicon slice. Says Ruiz: "We intend to turn what has been a weakness--a broad array of technologies--into a powerful weapon no one else has."
Unfortunately, most chipmakers have the same idea, including the DRAM giants in Japan and Korea--as well as nemesis Intel. So Motorola may be jumping from the frying pan into the fire. But there's not much choice. As transistors continue to shrink in size, more circuitry will inevitably get crammed onto each chip. Tomorrow's silicon will hold dozens of today's chips, so only the most complex systems will need more than a couple of chips--and many products will have just one. In its next-generation cellular phones, for instance, the current handful of chips will collapse onto one.
So system-chip sales are set to erupt. Now, they amount to only $4 billion, or 3% of the world market. By 2001, system chips could total $70 billion--triple the size of today's microprocessor market--and 26% of total chip sales.
Motorola brings powerful technology to the party. It is the top producer of microcontrollers, or "embedded" microprocessors. These special-purpose chips are variations of general-purpose microprocessors, like the 68040 and the PowerPC, and account for nearly 60% of Motorola's semiconductor revenues. Because microcontrollers are already the silicon guts of everything from automobile engine controls to office equipment and X-ray machines, they're generally viewed as a key stepping stone to system chips.
To exploit Motorola's microcontroller dominance, Ruiz has been wooing big customers who can help with the system-chip initiative. He forged a partnership with TV pioneer Sarnoff Corp. (formerly David Sarnoff Research Center Inc.) to develop one-chip digital TVs and set-top boxes. Similar agreements have been struck with Eastman Kodak Co. and Amati Communications Corp. for imaging and networking chips. And Motorola will expand its partnership with IBM in PowerPC chips, to create embedded versions for networking gear and other fast-growth markets.
Motorola hopes a system-chip strategy will prove as potent as it has for rival SGS-Thomson Microelectronics. By focusing on customized designs, the French-Italian chipmaker's revenues jumped 16% last year, despite a 9% dip in the world market. "The first critical success factor" in system chips is a wide range of technologies, says Jean-Philippe Dauvin, a vice-president at SGS-Thomson.
Motorola certainly has that. Yet its 1996 sales and profits stagnated as it poured resources into the struggle with Intel. Intel mania even caused Motorola to miss last year's 30% growth in digital-signal processors. DSP chips translate analog signals into digital codes that computers can process. Motorola's DSP sales not only didn't grow, they shrank 10%.
Ruiz, a former executive in Motorola's successful pager business, is molding the chipmaking operation after his nimble alma mater. He has collapsed 23 business units into four, targeting consumer electronics, wireless communications, networking, and automobile companies. Customers applaud the changes. Christopher J. Oliver, vice-president of manufacturing at Cabletron Systems Inc., says he's so impressed that Motorola "went from supplying no part of our products to nearly 10%."
REVENUE ROCKET? Ruiz' initiatives should show results next year, says analyst Jonathan J. Joseph at NationsBanc Montgomery Securities Inc. He predicts chip revenues will climb 21% next year--more than twice the overall market. If so, sales will hit $9.6 billion, after shrinking last year and gaining a mere 1% this year. Says Joseph: "This is the biggest change their semiconductor organization has had in 20 years."
Rivals are less charitable. W. Richard Marz, executive vice-president of LSI Logic Corp., a system-chip pioneer, scoffs at Motorola's ambitions. Because its chips were developed by independent teams, he says, merging them into one-chip designs will be tough. "This isn't quite like cut, copy, and paste and create a system," Marz says.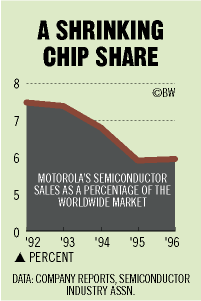 That's not just a sour-grapes reaction. Even neutral observers say the changes will be wrenching. Still, look for Motorola to pull out all stops to support Ruiz. Its chipmaking operation accounts for more than a quarter of corporate revenues--and perhaps more important, the Austin unit's products are the technological cornerstones for most of the other three-fourths. Motorola now knows it can no longer milk old products if that hampers newer ones--as it did with M-Cor. This promising new piece of the system-chip strategy is just the chip for products that run on penlight batteries, yet M-Cor was kept off the market for two years to avoid cannibalizing older chips. Meanwhile, Hitachi Ltd. and NEC Corp. moved in and now dominate the market for handheld PCs. "We didn't listen to some of our customers," shrugs Senior Vice-President Fred Shlapak.
Quite an admission for a company that gets the bulk of its revenues from communications products. But count on an old paging hand like Ruiz to make sure the new message gets through.
Before it's here, it's on the Bloomberg Terminal.
LEARN MORE