France: This Rebound Is In Consumers' Hands
by
With real gross domestic product growing at 2 1/2% over the past year, France's recovery looks solid. But so far, exports have been the driver of this rebound. Growth in 1998 will depend more on a pickup in domestic demand.
Consumer spending had jumped in 1996 because of government subsidies, but demand weakened once that support ended. Now, consumers are showing new life (chart). Even with France's 12 1/2% jobless rate, consumer confidence is slowly rising. And October purchases rebounded by 2.2% after a drop in September. That means that spending began the fourth quarter slightly ahead of its third-quarter average. November's data, though, may be skewed by delivery problems from a truckers' strike. That was one reason for the weakness in car sales last month. Even so, a survey of retailers showed that nonfood retailers are upbeat about yearend sales. And the housing recovery is lifting sales of home-related goods.
For 1998, spending may be lifted by tax-law changes. In order to boost revenues, the government has proposed raising tax rates on some investments. For instance, the rate on life-insurance contracts, a popular form of savings, would spike up to 17.5%, from 3.9%. Consequently, the percentage of consumers intending to save more fell sharply in October, to 30%, from 48% in September, even as households expected their incomes to rise.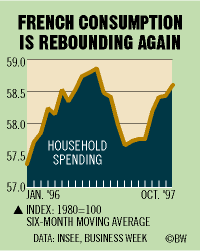 France needs solid growth if its budget deficit is to fall to 3% of GDP next year, one condition for entry into the first round of the European Monetary Union. In addition, France will have to raise interest rates by May in order to align its borrowing costs with other potential EMU members. Already, the Bank of France followed Germany's Bundesbank in lifting rates on Oct. 9. But rising rates are likely to strengthen the franc at the same time that Asia will be cutting its purchases of French goods. That means that export growth will slow next year, leaving French consumers as the main engine to propel the recovery forward in 1998.
Before it's here, it's on the Bloomberg Terminal.
LEARN MORE