Finally, Toyota Gets A Minivan Right
Larry Armstrong
Now this is an American minivan. You can tell by the number of cupholders--an astonishing 16 in the version I drove, including two giant ones designed to handle one-liter bottles. Eight of them, though, can only be reached when you fold down the second- and third-row seatbacks, which function as tray tables.
But the new Sienna minivan is built not by a U.S. auto maker, but by Japan's Toyota, in Georgetown, Ky., on the same production lines as America's best-selling car, the Camry. The Sienna is Toyota's third shot at the U.S. minivan market, and this time it looks as if it got everything right. It did so by copying the features of American-designed minivans. It added a second sliding door on the driver's side, just like Chrysler's. Shortly, it will offer an optional ($375) motorized passenger-side door, just like General Motors'. Other features include mesh storage pockets on the sides of the front seats.
PLEASING DETAILS. More important is the walk-through design. In earlier Toyota minivans, a mid-ship engine created an island between the front seats, blocking access from front to rear. And the vans were pricey. The stylish, built-in-Japan Previa that Sienna replaces started at $25,300 and topped out at $33,000-plus. The base-model Sienna, with a single sliding door, starts at $21,140; the mid-range LE version I drove goes for just under $24,000, including air conditioning and the driver's-side sliding door. Toyota expects this will be its best-seller. The model comes standard with tinted privacy glass, power windows and door locks, and a second set of air conditioning controls for rear-seat passengers. Second-row captain's chairs, instead of bench seats, cost $650 extra.
While there's nothing groundbreaking here, Toyota has put all the usual bits together in a satisfying way. The controls are clearly visible and right where you'd expect to find them. There's a little overhead storage compartment for stowing sunglasses or a garage door opener, and most models have a pull-out storage drawer beneath the front passenger seat. The seats, meanwhile, are comfy, and the front ones are height-adjustable, a nice touch.
Toyota hasn't stinted on safety, either. Antilock brakes are standard, as are front seatbelt pretensioners, which automatically tighten the belts in a crash. The bumpers will withstand a 5 mph impact. All the seats have headrests, and an optional integrated child safety seat will be available come spring. The company has even added a low-tire-pressure warning light on the instrument panel, made possible by the wheel-speed sensors of the antilock braking system.
The Sienna rides on a stretched and modified Camry platform, and shares the Camry's four-speed automatic transmission and 194 horsepower V-6 engine, the most powerful standard engine in the minivan category. The ride is solid, with power to spare for acceleration and passing lanes. You get a sedan-like ride from the soft suspension, but the Sienna can handle quick turns without the sensation that it's about to tip over.
If there's a quibble, it's size. The Sienna is midway between the short and long versions of Chrysler's popular Caravans, with the cargo space of the short one. There's not a lot of room behind the third row--maybe enough for eight or 10 paper grocery bags.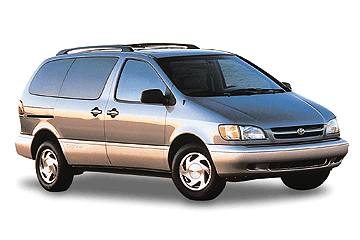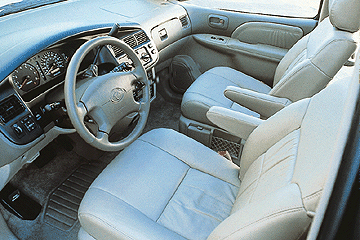 FLEXIBILITY. Any combination of the rear passenger seats can be removed, including the third-row bench, which is thoughtfully split in half. Still, each seat or section weighs a bit over 50 pounds. As a result, rearranging the furniture isn't going to be something you would want to do on a daily basis. But at least the flexibility gives you the option of carrying passengers or cargo.
Toyota is introducing the Sienna into a saturated market: Minivan sales have flattened as baby boomers opt for sport-utility vehicles. But don't expect Toyota to offer discounts right away. It only plans to make 70,000 Siennas in the first year. Still, that's a start at replacing all the Dodge Caravans parked in driveways next to diehard Toyota owners' Camrys.
Before it's here, it's on the Bloomberg Terminal.
LEARN MORE