Can You Keep `Em Down On The Mall?
Owners bet on kiosks offering...practically everything
De'Ann Weimer
As you walk through the mall this holiday season, pause to admire the poinsettias, fountains, benches, and other nonrevenue-producing niceties in the hallways. They're about to get some company.
Indeed, things may soon get pretty crowded out there in mall land. The nation's biggest mall owners, Simon DeBartolo Group and General Growth Properties Inc., are rolling out plans to put their hallway and back-office space to better--read more profitable--use. And the New Mall, as it is known in developer circles, is likely to put quite a squeeze on such unproductive freebies as benches. In an effort to multiply the reasons to hit the mall, developers are hatching schemes to turn every available nook and cranny into selling space. "We don't view this as cluttering up the mall but as extending the breadth of what can be obtained," says David Simon, president of Indianapolis-based Simon DeBartolo.
Already, in malls such as Circle Centre in Indianapolis, Simon DeBartolo has installed a collection of kiosks and video walls in what was once an open hallway. These souped-up ATMs and stacked TVs offer customers everything from cash to concert tickets. And that's just a start. Over the next four years, the company, which owns 187 malls across the U.S., plans to offer gift certificates, job leads, airline tickets, and long-distance telephone cards via electronic kiosks placed in common areas. Back-office space, once devoted to mall employees, will be converted to house nonretailing tenants, from day-care centers to brokerage and insurance offices.
Simon's theory: Malls are missing a grand selling opportunity by sticking to traditional mall merchandise, such as clothing and housewares. Expand mall offerings, and shoppers will have more reasons to visit. And the more time the 1.5 billion shoppers who enter its malls every year spend there, the more likely they are to buy things. "Because of our size and our scope, this has really allowed us to turn on the marketing lightbulb and promote more goods and services," Simon says.
For some shoppers, the idea has appeal. Carol Curtis of Lisle, Ill., says such kiosks would make her mall trips more productive. "You have more one-stop shopping," she says. The big risk, of course, is that many others pass by the jazzed-up kiosks unnoticed.
QUICK VISITS. For the developers, success is essential. That's because shoppers just don't flock to malls the way they used to. Overall sales growth at malls nationwide lags behind inflation, rising just 2.9% last year, says the International Council of Shopping Centers. Although developers have continued to build more retail space, sales per square foot at the nation's shopping centers have been nearly flat for four years, according to consultants Deloitte & Touche (chart).
Moreover, shoppers spend less time in malls than they used to--now an average 76 minutes per visit, down more than half an hour from the glory shopping days of the '80s, says Wendy Liebmann, president of WSL Strategic Retail, a New York-based consulting firm. "The old traffic drivers--department stores and specialty shops--no longer do the job well enough," she says.
Of course, this isn't the first attempt malls have made to recapture shopper loyalty. The most popular tactic of the '90s has been adding mega-entertainment to shopping centers. Roller coasters, IMAX Corp. theaters, and other attractions sprang up. Some malls have simply added multiplex movie theaters or theme restaurants to boost their entertainment offerings. Others, like the Mall of America in Minneapolis and Forum Shops at Caesars Palace in Las Vegas, have created mall-based amusement parks.
But added entertainment is too expensive to roll into every mall in suburbia. That's why Simon and GGP have settled on hall-based kiosks. Setting them up requires little up-front cost. And in addition to luring consumers out to shop, mall owners collect cash in the form of leases and service fees. GGP already has 90 such kiosks up and running in its 120 malls; 75 more are planned in 1998, says GGP President Robert Michaels. "Success isn't just the quality of your anchors or entertainment," he says. Shoppers are looking for a wider array of shops and services, "from the brokerage firm to the restaurant to the theater to the ice rink." Simon predicts its kiosks will generate $70 million in revenues by 2002. Both companies are also adding them to malls in Europe, Asia, and Latin America.
HELP WANTED. Can kiosks help restore the nation's shopping malls to their former glory? Wall Street is skeptical, largely because kiosks' track record has not been strong. Analyst Craig Schmidt of Merrill Lynch & Co. says earlier generations of the interactive kiosk, such as one tried by Lands' End Inc. in 1992, have not proven very popular with shoppers or profitable for owners. "At this point, it's very speculative," he says.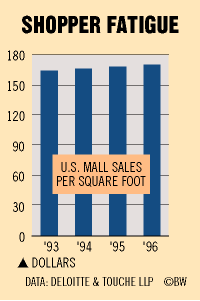 So far, retailers are more supportive. Merchants are most interested in kiosks and back-office space that operate employment centers--a bonus to retailers constantly on the hunt for new staffers. J.C. Penney, Wet Seal, and Sears & Roebuck have already signed up to use GGP's kiosks, which pipe information from Olsten Staffing Services into the malls. And since most of the early kiosk offerings are items not traditionally sold in the mall, few view the new technology as competition.
Still, it's too soon to tell if the new offerings will succeed in bringing more customers to the mall--or getting them to spend more when there. Says Jennifer Edwards, Indianapolis district manager for Victoria's Secret Ltd.: "We don't know if people are using them, except to get money." At least it's a start.
Before it's here, it's on the Bloomberg Terminal.
LEARN MORE