A Colony Of Elves In Colorado
Sandra Dallas
Dear Gates Rubber,
Thank you for the Sailboat Kit. It's really neat. I'm halfway done. I'm 10.
Spencer Tucker
That's the kind of mail that arrives at Gates Rubber Co. each year after the biggest kids' corporate Christmas party in the country. This year, some 5,820 children of Gates employees are invited to Christmas festivities at 18 U.S. facilities for an afternoon that includes circus acts, a petting zoo, face painting, magicians, and Santa Claus. But the highlight will be a brightly wrapped present, personally tagged with each boy's or girl's name.
All Gates kids through age 12 receive presents. Every 8-year-old boy will get a Lamborghini toy car (batteries included), while 10-year-old girls will unwrap Enchanted Forest games. All kids under 1 will receive a plush toy or a set of balls, even those born on Dec. 13, the day of the party. Kathy S. Rivera, a Gates buyer who has selected the gifts for the past 20 years, has been known to rush into Toys `R' Us minutes before the party to snap up presents for newborns or the children of new hires. Spencer Tucker and his brother Casey received gifts even though their dad, Theodore W. Tucker, was hired as district sales manager in Edmonds, Wash., just three days before the gifts arrived.
Right now, Rivera is spending her time in the Christmas room at the company's headquarters in Denver, where 382 musical keyboards for 7-year-olds have just arrived. Surrounded by neat floor-to-ceiling stacks of toys wrapped in more than two miles of red, gold, and green holiday paper, Gates retirees frantically wrap the last of the gifts. Then they will assemble presents for the children of each family, binding them together in shrink-wrap. The packages will be loaded into Gates trucks and commercial carriers for shipment to the plants. There's rarely a slipup--but then, Gates has been playing Santa Claus for 75 years.
The parties began in 1922 when Hazel Gates, wife of company founder Charles C. Gates, invited employees' kids to a party in the roof garden of the Denver factory. "Mommie G," as she was affectionately known, the mother of seven, personally shopped in New York for silk stockings, monogrammed handkerchiefs, and hard candy for the kids. When the parties outgrew the roof garden, they were moved to a huge sports arena. In later years, Mrs. Gates circled the floor in a convertible, to the applause of children.
"A GOOD TRADITION." Mrs. Gates oversaw the parties, which expanded to other Gates facilities in the U.S., until her death in 1972 at the age of 82. She made her son, Charles C. Gates Jr., who took over the company after his father's death in 1961, promise to continue them. So years after other companies discontinued paternalistic practices such as holiday hams and turkeys, the Gates Christmas party remains "a good tradition," says Gates. "Mother wanted to be sure every child got a present on Christmas. During the Depression, it probably was the only gift some of them got."
Charles Gates, who always answered the kids' thank-you notes, was born a year before the first party and has attended almost all of them. He retired as chairman last year when the privately owned maker of industrial hoses and belts was sold to Tomkins PLC. But Gates will attend this year and bring his grandchildren. Tomkins promises to keep hands-off what Charles Gates calls "an employee-relations activity."
Christmas planning begins in March, when Rivera makes a shopping trip to the Western States Toy, Hobby & Halloween Show in Pomona, Calif., to look for presents. "By that time, you're supposed to realize there's no Santa Claus," says Gates, explaining the cutoff age. While the company won't reveal what it spends on gifts, most cost $10 to $20. Because of the volume of toys it purchases, Gates gets wholesale prices. "The only manufacturer who won't work with Gates is Mattel Inc., so no Barbies--which is O.K.," says Rivera. A spokesman for Mattel said "we distribute through retailers" and anything else "would be taking business away from them." Girls still get dolls, but Rivera is careful not to select gender-associated gifts, such as toy vacuum cleaners for girls, and she won't buy guns, either.
Nor will she purchase anything that contains gas--after gas-powered airplanes stored in a hot room began leaking a few years ago and had to be returned. Rivera stays away from highly promoted gifts such as Beanie Babies, because kids are likely to get them anyway. Gifts are displayed at the plants, so parents don't buy duplicates.
The only ongoing gift is a watch for 12-year-olds. This year, it's a Timex that retails for $45. Once, 4-year-old boys always received wagons, but large families complained of wagon overload. In 75 years, there have been few other complaints. Families who don't celebrate Christmas can have their gifts donated to charity. Children such as the Tucker boys, who live too far from a plant to attend a party, receive their gifts at home.
ORDEALS. There have been mishaps. Once, Rivera got a 6 a.m. phone call the day of the party, telling her the Denver site was flooded because of a leaky roof. But crews cleaned up the arena by party time. Another time, a lion tamer couldn't get away to buy food for his hungry animal, so Rivera rushed out and purchased 30 pounds of meat. "We do petting zoos now," she says. And once, the company hired a troupe of Las Vegas acrobats. Some appeared in scanty dress, and they weren't invited back.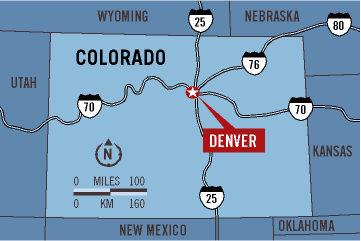 The biggest change is the number of kids who will attend this year. A generation ago, there were 10,000, but downsizing as well as an aging workforce have decreased the number. Gates is providing more gifts for children being raised by grandparents, some of them retirees, however.
As the gift-laden trucks begin rolling toward the factories, Rivera is checking her list twice. She's also adding new names and shopping for candy and ornaments to be given out as favors. And in Edmonds, Wash., Mr. Tucker's sons, Spencer and Casey, are getting excited. "The little guy [Casey] expects something," says their father. "Spencer says, `If I get a present, that'll be great. If I don't, I understand."' Like thousands of kids before him, Spencer will learn that while he may not be able to depend on Santa, he can count on Gates.
Before it's here, it's on the Bloomberg Terminal.
LEARN MORE