Big Entertainment (BIGE) is quite a small company but unique in its field. It develops and holds the rights to certain characters and concepts--primarily of the science-fiction and fantasy genres--created by best-selling authors and media stars. It licenses them for films, books, TV, and toys. But Big E stock has yet to bloom: Trading at 6 a share, it's down from a 52-week high of nearly 8. But the stock is gaining fans as the company signs up more authors and properties. Sales and profits could grow "in excess of 60% annually over the next three years," says Jan Loeb of Wasserstein Perella Securities.
Big E owns rights to such authors as Tom Clancy and Mickey Spillane and to film celebrities like Leonard Nimoy. In sports, Big E has a pact with basketball's Magic Johnson to develop children's books and cartoon characters.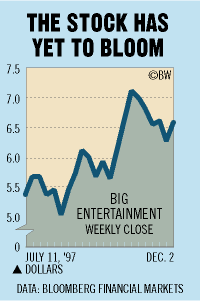 Big E is expected to announce a contract with Metro-Goldwyn-Mayer to develop books from the company's vast film and TV library. The library includes products from other studios it owns, such as Orion Pictures, United Artists, and Samuel Goldwyn Films. "This contract will produce a number of potential big sellers for Big E," says CEO Mitch Rubenstein. He figures the company will generate revenues of $10 million this year, $25 million in 1998, and $75 million in 1999. Rubenstein and Big E President Laurie Silvers founded the Sci-Fi Channel and sold it to USA Networks in 1992. Today, the channel has 30 million subscribers.
Wasserstein's Loeb estimates the company will just break even this year but earn 43 cents a share next year. Based on his 1998 estimate, Loeb thinks the stock will hit 8 1/2 in 12 months.