Why Sam Zell Loves Transmedia
By
Trading at 13 in its heyday two years ago, Transmedia Network (TMN) was a popular "concept" stock that had something novel to offer: a charge card that was designed to save money for its members at restaurants, hotels, and recreational facilities. Since then, the stock has tumbled to 5. On the way down, it attracted a savvy investor--Sam Zell, the real estate mogul and financier. He has cut a deal with Transmedia Chairman and CEO Melvin Chasen: Zell has acquired stock worth 19% of the company, plus warrants that will give him a total Transmedia stake of 29%.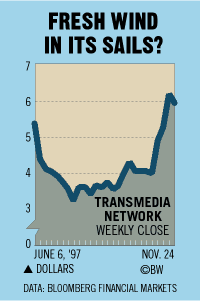 What does it all mean? Insiders believe that Zell will end up owning the company, since he virtually controls it already with the deal between Transmedia and Zell's Equity Group Investments. Part of the deal: Chasen will retire, and a new, Zell-approved chief will be installed. Also, Zell has obtained the rights to acquire Chasen's 10% stake, says Robert Renck, who runs the investment firm R.L. Renck. Combined with his current holdings, that acquisition would give Zell a nearly 40% slice of Transmedia.
"Zell will derive a lot of cross-marketing advantage with Transmedia," says Renck. Transmedia's 1.3 million members and a variety of savings programs, he notes, could prove useful to Zell's other businesses--hotels, restaurants, radio stations, and cruise lines. "All of a sudden, I'm getting calls about Transmedia from institutional investors since the Zell deal," says a Transmedia executive. "They are rediscovering the stock," he adds.