U.S.: Return Of The Monster Trade Deficit
Imports are set to surge, and Asia's meltdown could make things worse
By
With Asian economic troubles spreading, U.S. foreign trade is back in the spotlight. And as economists begin to focus more intently on the outlook for 1998, what they see on the trade front is not pretty.
Even before the Asian meltdown, prospects for next year's trade deficit were not good. A steady flood of imports was expected to surpass healthy, but slower, growth in exports. Now, the export outlook is a bit darker, given the probability of less demand from Asia and Latin America. And with U.S. domestic spending likely to stay strong for a while longer, imports will come in faster than previously anticipated, especially since more Asian imports, made cheaper by weaker Asian currencies, may likely head this way (chart).
The bottom line is that the trade deficit for goods and services, before adjusting for price changes, is on track to hit about $115 billion this year, the largest since 1988. For 1998, the gap could easily approach $150 billion. Looking at the trade numbers in the way they are added into the real gross domestic product, the wider deficit could subtract between one-third and one-half of a percentage point from next year's growth.
Most of that reduction would have happened even without the mess on the Pacific Rim. In fact, 85% of the 206 economists surveyed in November by the National Association of Business Economists rejected the notion that Asian markets would have a significantly adverse impact on the U.S. economy. Even so, the NABE survey projects a sharp deterioration of the trade gap, which will help slow U.S. growth to 2.4% in 1998, from a robust 3.7% expected for this year. The economists anticipate that the 1998 trade picture will continue the patterns of 1997: solid exports, but surging imports.
THE SEPTEMBER TRADE DATA, which contained little if any fallout from the Asian crisis, clearly illustrated those trends. The month's trade deficit widened to $11.1 billion, from $9.5 billion in August. Exports declined 0.7%, although with their prices dropping, the trend in inflation-adjusted exports remains healthy. September imports, however, continued to head higher, climbing 1.2% to $89.1 billion, another record high.
At first blush, the doubling in size of the deficit with Asia's newly industrializing countries (NICs) suggests some early impact of the market crisis. However, the country data are not seasonally adjusted, and the trade gap with that region typically swells this time of year as retailers lay in goods for the holidays. Last year, the deficit with the Asian NICs nearly tripled from August to September. A clear reading of any trade effects in the data will not be possible until early next year.
For now, little relief is in sight for the import side of the trade ledger. To begin with, a given level of U.S. demand brings in far more imports than it used to. Imports now account for a record 31% of domestic demand for nonoil goods, up sharply from 19% when this expansion began in 1991, and more than double the 13% share in 1980. Capital goods account for most of that increased penetration, and in a sense that's good, because it represents U.S. investment that will eventually improve productivity and damp inflation.
However, since the U.S. also exports a lot of capital equipment, such items balance out somewhat and do not account for the lion's share of the increase in the trade deficit. Since early 1991, consumer goods and autos have been responsible for 54% of the widening in the trade gap for goods; a shrinkage in the capital-goods surplus has accounted for only 29%.
LOOKING AHEAD, that mix will be bad news for the trade deficit. On the export side, the biggest impact on U.S. shipments to Asia and Latin America is likely to hit capital goods, as countries scale back their infrastructure projects. And on the import side, U.S. consumers show few signs that they are ready to slow their spending pace in a lasting way.
Indeed, consumers remain optimistic, even after the late-October stock market swoon (chart). The Conference Board's confidence index rose to 128.3 in November, from 123.4 in October. Consumers' assessment of the present economic situation jumped from 147.5, to 158.9, the highest reading since 1969. Expectations for the future edged up from 107.3 to 107.9.
That upbeat mood was echoed in the household survey done by the the University of Michigan. Such euphoria undoubtedly reflects the strongest labor market in a generation. The board's survey showed that 37.5% of consumers characterized jobs as "plentiful" in November. That's up from 33.7% in October.
And looking toward early 1998, the latest quarterly survey of 16,000 employers taken by Manpower Inc. showed that more employers report plans to increase their payrolls in the first quarter of next year than during any first quarter since 1976. That hiring pace should push consumer optimism even higher, which will lead to even bigger increases in spending for both domestically made products and imports.
THE OUTLOOK FOR THE TRADE GAP would be far worse if exports weren't expected to do well next year. In September, exports slipped to $78 billion, but they're still up 10.7% from a year ago. And when the effects of price changes are taken out, the volume of exported goods is growing 25% from last year (chart). Add in services, and real exports are up about 15%.
For 1998, export growth will likely slow to the high single-digit territory--still stronger than the economy as a whole. Clearly, though, foreign shipments will take a hit from the rising dollar and Asia. Since the dollar began to rise in 1995, companies have cut the prices of their goods in dollar terms, so that the merchandise remains competitive when priced in local currencies. However, if the dollar continues to strengthen and if profit growth in the U.S. begins to falter, then companies might feel forced to mark up their exports. Higher prices would then cut into volume.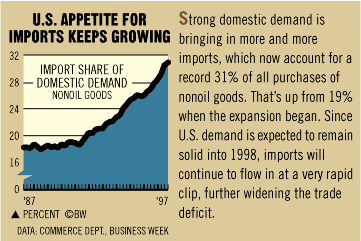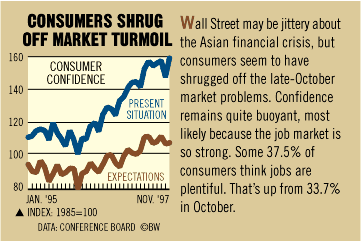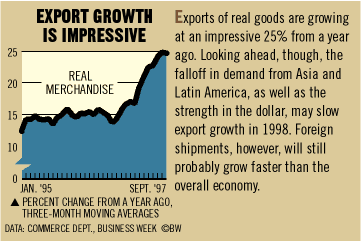 Asia will also pose a problem. The Pacific Rim from Korea to Australia buys just over a quarter of U.S. exports. Japan alone accounts for 9%--although that's down from 11% in 1995. In fact, for all the attention focused on Southeast Asia, the bigger threat to U.S. export growth will likely come from Japan's continued problems in jump-starting its domestic economy and modernizing its financial system.
Ironically, the deterioration in trade comes at a time when U.S. companies have made great efforts to become competitive sellers around the globe. But even if the growth rate for exports manages to remain in the low teens next year, the rise will do little to offset the expected surge in imports. And that tremendous appetite for foreign-made goods is why the foreign deficit in 1998 may well surpass the gap of 1986 as the largest on record.
Before it's here, it's on the Bloomberg Terminal.
LEARN MORE