Taiwan Gets Caught In Korea's Downdraft
As the won falls, price wars loom in steel, chips, and chemicals
Jonathan Moore
Things are going from bad to worse for Taiwan's memory-chip manufacturers. A supply glut cut prices some 40% earlier this year. Now, the Taiwanese are bracing for even tougher competition from their archrivals in South Korea. As the won collapses, such leading Korean producers as Samsung are gaining pricing leverage--and they're using it. Taiwan makers see Korean price-cutting as a key reason for a 17% plunge in memory prices in the last month, to below any Asian manufacturer's cost. "We're definitely worried," says R.T. Lo, vice-president of TI-Acer Inc., a Taiwanese maker that expects to lose $56 million this year on sales of $382 million.
JUST THE BEGINNING. Welcome to the front lines of Asia's devaluation wars. Taiwan's executives are growing more concerned by the day as Korea's currency slides--24% since Aug. 1--and its competitive edge sharpens. Taiwanese and Korean companies compete head-to-head in petrochemicals, steel, and computer monitors as well as chips. With Korean companies desperate for foreign currency to repay U.S. dollar loans, the price-cutting in chips to lure customers could be just the beginning. "This whole currency crisis is dragging everybody down," says Peter Tsao, Taiwan branch director of ING Barings Securities. "Nobody is immune."
Immune is what Taiwan seemed to be until recently. Unlike Korea's chaebol, Taiwanese companies are small, flexible, and quick to adapt to market changes. They carry little foreign debt and generally have healthy finances. Taiwan has a globally competitive electronics industry and a trade surplus. Partly to reduce the impact of the falling won, the central bank in recent weeks has allowed the new Taiwan dollar to depreciate 14%, but far less than other regional currencies.
That's small comfort to some of Taiwan's biggest industries. In computer monitors, Korean producers are anticipating major gains, at least in the short term. Bae Chang Kyun, a manager at Korea's LG Electronics, which makes about 5 million monitors a year, says the won's depreciation adds up to "a competitive edge of between 10% and 15% in price terms" against Taiwanese rivals, who make 54% of the world's monitors. "I expect a couple of large clients with annual purchasing power of 500,000 units or so to switch to us from the Taiwanese," Bae says. Similarly, a spokesman at Daewoo Electronics Co. predicts that its monitor exports will grow by 30% to 40% in 1998, from 2.1 million this year.
Taiwan's petrochemical companies are bracing for a rough ride, too. Harry Wong, vice-president of Union Petrochemical Corp., which makes a raw material used to manufacture polyvinyl chloride, recalls how a round of aggressive pricing by Koreans in 1992 and 1993 led to a battle over dumping. He expects that the Koreans' high debts could force them to slash their prices again soon. "Southeast Asian demand is very weak, which makes them even more likely to dump their product," Wong says.
There's also trouble in store for Taiwan's steelmakers, who already have been contending with weak Asian steel prices as a result of cheap Russian imports and the currency crisis in Southeast Asia. Currency shifts are helping Koreans earn more, in won, for their hot rolled steel. If Pohang Iron & Steel Co. lowers its prices by 5%, to $310 per ton, as some expect, at a rate of, say, 1,150 won to the dollar, it nonetheless will be able to pocket 24% more won than it has earned on average this year.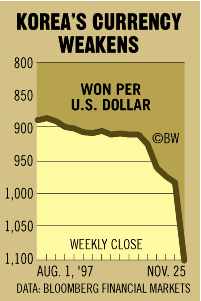 Taiwan's producers say that whatever Korea's short-term gains from the currency shifts may be, they probably will be offset in the long run--especially by higher import costs. And the excess supply of dynamic random-access memory (DRAM) could disappear in a flash if producers scale back expansion plans or switch their product lines to other types of computer chips. If that happens, some Taiwanese chipmakers even predict that they could snatch away market share from the Koreans. "In the long run, their cost has been increased because of the depreciation," says Robert Hsieh, financial vice-president of Vanguard International Semiconductor Corp. "I doubt they have the financial muscle to keep improving their technology."
Whether or not that's so, Taiwan, with its nimble companies and entrepreneurial spirit, looks to be in far stronger economic shape than its weakened regional neighbors. Nonetheless, the won's plunge has brought the Asian financial crisis right to Taiwan's doorstep.
Before it's here, it's on the Bloomberg Terminal.
LEARN MORE