Sports: Walk, Don't Schuss
Geoffrey Smith
Stratton Mountain in Vermont is one of New England's popular destinations for downhill and cross-country skiers. But at the resort's huge rental center, skis aren't the only popular items. Among connoisseurs of winter sports, snowshoes are the rage. At Stratton, they account for as many rentals as cross-country skis, says Roger Hill, who runs the resort's Nordic Center. "There's such a quick learning curve to snowshoeing that everybody's doing it," says Hill.
Snowshoeing is the nation's fastest-growing winter sport, according to trade group Ski Industries America. The sport took off in the early 1990s with the development of high-tech equipment featuring lightweight aluminum frames, plastic deckings that replaced the old-fashioned webbing to keep the shoe from sinking into the snow, and simple nylon bindings that can be used with any winter boot.
Snowshoes are available at most outdoor retailers, and some resorts offer courses and fitness tours. There's no mystery why the sport has mushroomed. Snowshoeing is a great equalizer. It takes only a little more skill than walking, it's great exercise, and it's a whole lot cheaper than airfare to Vail and a week's worth of lift tickets. For $100 to $250, you can buy a top-quality pair and start out in your backyard, on a golf course, or virtually anywhere there's snow.
Snowshoes make an excellent holiday gift for any family member interested in winter sports. And buying snowshoes is much easier than, say, picking out a new computer. The SIA lists 14 snowshoe makers. But for most buyers the choices will come down to a handful of major brands including Tubbs, Atlas, Sherpa, and, in the Rockies, Redfeather. Most companies have their own Web sites, which are packed with information on their products, advice on snowshoeing, and links to other resources. Two good sites are www.tubbssnowshoes.com and www.atlasworld.com.
SINKING FEELING. The key things to consider when buying snowshoes are the user's weight and the type of snowshoeing he or she will likely do. Body weight determines the size of the snowshoe you'll need. Adult shoes range from 25 to 36 inches; a kid's version runs 17 1/2 inches. A 200-lb. man will sink in snow wearing a pair that's too small. Size is also a function of the type of snow you'll be in. Heavier wet or icy snow requires smaller snowshoes, while powdery snow requires larger ones.
Smaller snowshoes are also needed for casual hiking, but consider a larger pair if you plan to carry a heavy backpack for lunch or camping. Different snowshoes are designed for specific types of terrain or activity, ranging from mountain expeditions to casual hikes to aerobic workouts. So be sure to pick out something that matches your approximate needs and climate.
Two popular models to consider are the Tubbs Katahdin (about $200), and the Atlas Model 825 (about $170). Both offer lightweight aluminum frames and plastic deckings. The main difference is the binding. Tubbs uses a pivot system where your shoe rotates on a fixed axis under the ball of the foot. Atlas uses a spring-loaded binding that feels cushier but less secure. Both work well.
Newer, less expensive models ($100-$150) are made of molded polyurethane. The drawback is that some of these are heavier than aluminum snowshoes and may lack a desirable feature: a heel cleat that boosts traction. Also available are a collapsible model that fits in a fanny pack (from Wing Enterprises in Springville, Utah) and an Atlas model equipped with snowboard bindings so snowboarders can climb mountains lacking lifts.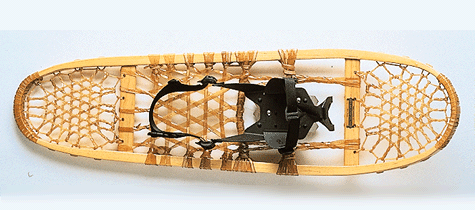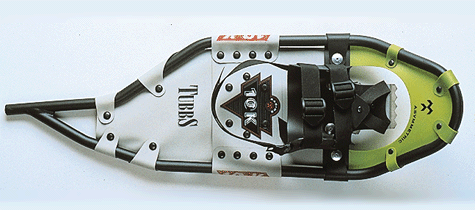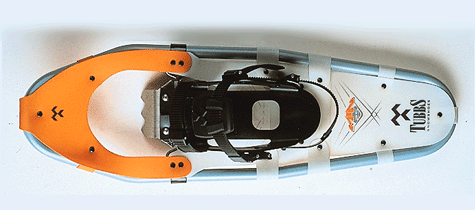 Unlike downhill or cross-country skiing, you need no special equipment for a snowshoeing jaunt. Standard, waterproof winter boots will do--the lighter the better. A pair of gaiters is sometimes recommended to shed snow off your legs. And for rougher terrain or aerobic snowshoeing, ski poles are recommended to maintain balance, relieve pressure on leg muscles, and strengthen the upper body.
For places to hike and information on snowshoeing events, call the American Hiking Society, 888 SNO-HIKE. Or just scout out a nearby golf course or wooded trail and wait for the white stuff to fall.
Before it's here, it's on the Bloomberg Terminal.
LEARN MORE