Rough Days For Diamond Dealers...Could Lead Some To Pack Their Bags
William Echikson
Marcel Pruwer never used to care about public relations. He and other diamond dealers kept to themselves in their heavily guarded offices on Antwerp's Hoveniersstraat. But now, a strong whiff of scandal has forced the secretive profession to emerge from its shell.
Pruwer and some 400 other dealers recently created the Antwerp Action Group. The lobby is scheduled to publish a white paper at the end of November that will launch a make-or-break campaign to persuade the Belgian government to set up a regulatory watchdog for the industry and give diamond dealers a new tax status. "We have to communicate better and tell people how much we contribute to the Belgian economy," says Pruwer, the report's author.
Although Antwerp's diamond district consists of only two short, narrow pedestrian streets next to the Central Train Station, it directly and indirectly employs 30,000 Belgians and generates 8% of Belgian exports. Each year, some $23 billion in stones--90% to 95% of all uncut diamonds and half of all the polished diamonds in the world--are traded here.
Such vast wealth concentrated in such a tiny area and in such easily transported stones has engendered a powerful aura of shady mystery. Explains one dealer: "If someone buys a stone from me, I can't give him an invoice, because he would face huge duties at home." Until recently that was legal--and for decades, the Belgian authorities allowed merchants to protect anonymity by invoicing sales to a fictitious Don Pedro.
But Europe's tolerance for secretive dealings is dwindling. As the European Union constructs a single financial market, it has imposed strict rules to combat money laundering. Belgium banned the Don Pedro shortcut in 1991. The case of a suspected Pakistani drug dealer named Fouad Abbas, who allegedly laundered some $166 million of hashish profits through his diamond trading firm, sparked demands for further transparency. When police raided Abbas' bank, the Bank Max Fischer, late last year, they uncovered evidence of money laundering by other diamond merchants. The bank was shut down--and at least half a dozen traders were arrested. Leo Neels, a lawyer for the diamond dealers, insists that most dealers are honest and says the industry wants "to cooperate to clear up this shadow."
Cooperation means the new PR campaign--and new strict regulation as well as higher taxes. "We need an independent watchdog" similar to those at the London Metal Exchange and Chicago Board of Trade, says Dilip Mehta, who runs Antwerp's largest diamond firm, Rosy Blue. Dealers--whose sales are 99.9% exports--are also proposing a tax status that would base taxes on operating costs rather than hard-to-pin-down profits. Although Pruwer says dealers are ready to accept a "significant" increase in their tax payments, getting an agreement won't be easy. Lawyer Neels worries that some antitax diamond dealers will undermine his efforts, and getting new laws passed can be slow in Belgium. But Pruwer says the dealers can't waste time restoring confidence: "We need to get this done yesterday."
Some nervous Antwerp dealers are wondering whether they should relocate. Almost all diamond companies have offices around the globe and could bypass Antwerp. One big dealer says he has sent his son to set up an office in New York "as a contingency." The unease seems particularly widespread among Indians, most of whom arrived in the past few decades and who now control about 50% of the trade.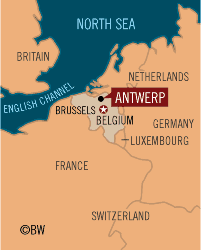 But many of the more established--and predominantly Jewish--dealers are upbeat. These optimists report that Antwerp's turnover rose 2% in the first nine months of this year. Business could turn down in the wake of the Asian crash, but the global retail market has more than doubled in the past two decades, to $53 billion annually, and the long-term outlook for sales to new markets is bright. "Just think of all those Chinese and Indians who soon will be our customers," says Stephane Fischler, director of Fischler Diamonds. His family, which has sold gems in Belgium since 1920, fled the Nazis but returned after the war. "I've been through much worse than this crisis," he says. So even through these dark times, diamonds will continue to glitter in Antwerp.
Before it's here, it's on the Bloomberg Terminal.
LEARN MORE