Mexicans' Pocketbook Power Kicks In
Rising employment spurs shoppers--and fires up growth
Elisabeth Malkin
Jose Manuel Ogando gauges how the economy is doing by where people sit in his bar and restaurant. "A year ago, the restaurant upstairs was empty," says Ogando, 41, ringing up a sale. "Customers moved to the cantina downstairs and ordered snacks instead." But on a recent Friday night, the restaurant in a middle-class Mexico City neighborhood was crowded and the scene festive as a trio performed old favorites and diners sang along over their after-dinner brandies.
Like a booster engine kicking in, consumer spending is giving a powerful new thrust to the Mexican economy's climb back from the recession triggered by the 1994 peso collapse. With gross domestic product posting a spectacular 8.1% growth rate in the third quarter, the government has raised its estimate to more than 7% growth for the full year, and forecasters are projecting another solid gain in 1998 (chart). Until recently, the economy has been kept afloat by an export surge, spurred by the cheap currency and the collapse of domestic demand. Now, while exports continue strong and foreign investments flow in, the consumer spending upturn is building a broader, more sustainable base for Mexico's revival.
What's putting the buying power in Mexicans' pockets is rising employment, even though real wages are 25% lower than they were in 1994. For households, "there's progress because more people are working," says Ricardo Salinas Pliego, chairman of retail chain Elektra, which sells home appliances and furniture on credit to Mexico's working class. With the surge creating 130,000 jobs in October alone, unemployment has fallen to its lowest level in four years. And for the first time since the recession, retail activity grew faster than manufacturing in the third quarter--12.3% vs. 10.9%. At Elektra, same-store sales are up 12% over last year.
So far, Mexico is weathering the shocks from Asia's financial upheaval better than its Latin American peers. Brazil, to protect its currency, imposed a credit squeeze that could trigger a recession and sideswipe neighboring Argentina. By contrast, Mexico's floating peso proved capable of absorbing the jolts without drastic interest-rate hikes.
And Mexico's partnership in the North American Free Trade Agreement gives untrammeled access to the U.S. market as well as guarantees to lure foreign investors. "We thought that the export boom was just due to the peso's weakness," says Enrique Ramirez, an economist at Santander Investment in Mexico City. "But there has been an improvement in Mexican products' competitiveness." Through September, exports were up 15.7% over the same period last year.
POTENT ENGINES. Foreign investment, totaling $5.5 billion through October, is also driving the recovery. General Motors Corp.'s Delphi Automotive Systems recently opened an ignition components plant in Torreon, raising its total workforce in Mexico to 75,000, up 5,000 in the past two years. In an October privatization, New York-based Loral Space & Communications and Mexican partner Telefonica Autrey paid $688 million for 75% of Mexico's satellite system. Local companies are also stepping up investments. Monterrey conglomerate Alfa is investing $695 million this year and expects to spend $856 million in 1998 in businesses from steel to foods. Meanwhile, Grupo Posadas will spend $240 million to open 15 hotels over the next two years.
There are engines of recovery yet to be revved up. The most potent would be a revival of credit by the battered financial sector. "There is still an awful lot of potential to this economy once banks begin to lend again," says Gray Newman, chief Latin America economist at HSBC Securities Inc. in New York.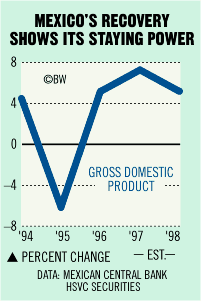 To be sure, there are bumps ahead. Opposition parties' proposals to step up spending or cut taxes could upset the government's budget, designed to keep the economy on an even keel. Mexico's heavy reliance on the U.S. export market also may become a handicap if the U.S. economy slows.
And many Mexican workers still haven't gotten the good news. Says Claudia Ramirez, a divorced mother of four who works double shifts cleaning offices: "I think things are getting worse and worse." Now that the revival is gaining momentum, the next task for policymakers is to make sure its benefits trickle down to more Mexicans.