Canada: It's Chill Out Time
by
Despite unsettled financial markets in the wake of the Asian crisis, the Bank of Canada decided that it could no longer delay an interest-rate hike. On Nov. 25, it raised the bank rate by a quarter point to 4%, after similar moves on June 26 and Oct. 1, and more hikes are on the way. The BOC said persistent weakness in the Canadian dollar since late October had resulted in a further "inappropriate" easing of overall monetary conditions that were already highly stimulative.
The case for tighter policy: Robust domestic demand, fueled by low interest rates and strong job gains, will lift economic growth to 4% this year and next. Given the strength in interest-sensitive sectors, the second-half pace may even exceed 4%. The BOC says output is now 1 3/4% below the full-capacity level. If growth doesn't slow, that gap will close by late 1998, generating inflation. In his Nov. 19 Monetary Policy Report, BOC Governor Gordon Thiessen repeated the central bank's intentions to move policy toward a more neutral stance, but he expressed concern about shaky financial markets.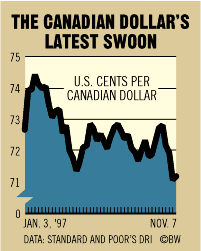 What forced Thiessen's hand was the 3.3% plunge in the Canadian dollar vs. the U.S. dollar since early October, taking it close to a 3-year low of U.S. 70.4 cents on Nov. 24. That drop has offset the tightening effect of the two earlier rate hikes. The swoon mainly reflects Asian turmoil: A flight to quality has pumped up the greenback at the Canadian dollar's expense, and prices of key Canadian commodities exports are likely to weaken. Also, Canada's trade outlook is not good, as booming demand sucks in imports.
But for 1998, Thiessen says currency basics look solid, after factoring in strong growth, low inflation, improved federal finances, and political calm. In fact, excluding the U.S. dollar, the currency has appreciated this year, pushing down import prices and overall inflation. The BOC expects consumer inflation, at 1.5% in October, to stay in the lower half of its 1%-to-3% target range in the months ahead. And further rate hikes will attempt to keep it on target.
Before it's here, it's on the Bloomberg Terminal.
LEARN MORE