Call It Home Buzz Office
HBO's challenge: To keep the high-profile programs coming
Elizabeth Lesly Stevens
After back-to-back acting Oscars in early 1995, Tom Hanks could have named his price at any big Hollywood studio. But instead he had his heart set on an unwieldy project with questionable commercial appeal: a 12-part series dramatizing the space missions of the 1960s and 1970s. Major studios wouldn't have touched the thing, and neither would the big broadcast networks. Says Hanks: "HBO was the only place to go."
So Hanks, a serious space buff, pitched HBO executives a grand opus delving into almost forgotten details of America's space race. From the Earth to the Moon, he promised, would be "a cross between Ken Burns's The Civil War and Brideshead Revisited." Although the budget eventually exceeded $60 million, Hanks and others he brought into the project, such as Sally Field and Ron Howard, worked for union scale. "I'm working for less than $5 an hour," Hanks figures. "No one is going to get wealthy off of this."
No one but HBO, anyway. From the Earth to the Moon, which debuts next spring, is just the biggest and showiest of a long string of HBO productions that have won the scrappy pay-TV network far more than its share of Emmys and profits. HBO measures its success not by selling tickets or ads but by how much buzz its relatively inexpensive programming generates. Buzz and the exclusivity of such fare keeps HBO's subscribers coming back. Along the way, HBO has become the most efficient profit machine in the Time Warner Inc. empire, with a return on invested capital of about 55%. It generates cash flow of well over $400 million a year on revenues of $2 billion and has an asset value of more than $4 billion. "It just goes from strength to strength," says Montgomery Securities' John Tinker. "They cut through the clutter. They create events. They have the best brand. They win."
PROPHECIES OF DOOM. HBO has bucked a lot of negative trends to emerge such a success. It exists in a backwater of the entertainment world--pay-cable networks--that's generally thought to be dying. Its pay-TV brethren, namely Viacom's Showtime and TCI's Starz!, are struggling, and the Disney Channel is abandoning the format. Plus, a half-dozen other developments over HBO's 25-year history--well-financed rivals, the coming of VCRs, pay-per-view, the firing of Michael J. Fuchs--were each to have led it to doom. Notes CEO Jeffrey L. Bewkes, the longtime HBO executive who succeeded Fuchs two years ago: "For 20 years, the rumors of our demise have been, if not exaggerated, then premature."
Indeed, the low-key and affable Bewkes has turned HBO into one of Time Warner's fastest-growing businesses. He repaired HBO's frayed, Fuchs-era relationship with its sister Warner Brothers studio, whose co-chief, Robert A. Daly, calls Bewkes "one of the top executives in the industry." Bewkes' rapport with both Time Warner CEO Gerald M. Levin and Vice-Chairman Ted Turner is so good that he is pretty much left alone to run the business.
A BUNDLE OF EMMYS. If everyone is to remain so chummy, Bewkes must sustain HBO's subscriber growth--which is beginning to slow. That growth bankrolls the increasingly expensive and high-profile original programming HBO needs to stand out in a badly fragmented environment. "Pick up the TV Guide, and there's all kinds of stuff there," says Bewkes. But HBO only has to concentrate on delivering good programs, he notes. "We're not selling ads. We're not selling our audience to advertisers. We're selling our programming service to you." To drive home that message, he's spending $25 million a year just to advertise the HBO brand.
Since HBO has so many more subscribers than its rivals (chart), it's able to spread the cost of its original programming and its big Hollywood movies across a broader base. Consider the math. HBO and the other pay-TV networks lay out an average of about $4 million per movie for the big Hollywood films they show. HBO shows that $4 million movie to 34 million customers, while Starz! shows it to just 6 million. Simply put, it theoretically costs HBO 12 cents per subscriber to show that film, while Starz! pays 64 cents. That scale also helps HBO afford exclusive deals with major studios--and with more of them: Warner, Fox, and in 2000, Sony. Starz! has Universal and Disney, while Showtime copes with just MGM and Paramount.
The same dynamic of scale gives HBO a significant boost as it bankrolls big movies of its own, such as the $60 million From the Earth to the Moon or the $14 million Vietnam memoir A Bright Shining Lie, due next year. Although HBO won't say how much it spends on original programs, it produces more than 15 movies a year, compared with just eight in 1995. HBO's cost-per-subscriber for these projects, again, is a fraction of Showtime's or Starz!'s.
HBO is now so far ahead that observers tend to view its continued dominance as almost a given. Weekly viewership is up 19%, to 19.2 million, since 1994. It won more Emmys this year than any other network except NBC. But in the treacherous global entertainment business, Bewkes acknowledges that HBO could easily take a tumble. It is pushing hard into risky foreign markets. At the same time, programming costs are skyrocketing.
But most worrisome is HBO's slowing subscriber growth. While gains from direct-broadcast satellite services should level off at about 1 million to 1.5 million new subscribers this year, Bewkes says, this year's growth among cable subscribers has slowed considerably, to about half the customary clip of 1 million a year.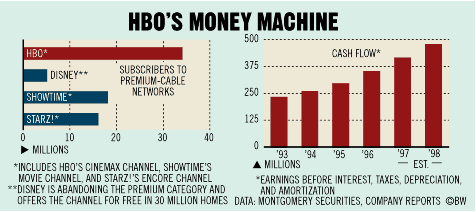 Bewkes' big push to drive up subscriber numbers is to "multiplex," or offer subscribers additional HBO channels at no extra cost. HBO subscribers over direct-broadcast satellite (DBS) already get multiple feeds, as do about half its cable subscribers. Full rollout of the dozen or so multiplexes now offered by HBO and Cinemax, its sister network, is held back by cable systems' capacity constraints. As the industry slowly upgrades to offer more channels, HBO multiplexes will be offered more widely. The extra channels cost nothing to produce (HBO has the right to show a movie as often as it wants over a set period), and subscribers pay nothing extra. The result: Bewkes says subscribers who have multiplex HBO are far less likely to cancel subscriptions, and the added value attracts new subscribers, too.
But still, Bewkes isn't taking anything for granted. "What could go wrong? Everything could go wrong," he says. "It's easy to lose this ball game at any time." Yes, but losing is far less likely if you're way ahead at the half.