Alpine May Face More Climbing
by
When investment manager Mikhail Filimonov first bought shares of Alpine Group (AGI) in 1994, the stock--highlighted in this column on Mar. 21, 1994--was at 6 3/4 a share. After a big run this summer, it's now at 18 5/8.
Is Filimonov bailing out? Far from it: He has raised his stake in Alpine from 4.5% to 6.5% and is still buying. By yearend, his stake will be 8%, figures Filimonov, who runs the $500 million Alexandra Global Investment Fund I. Among offshore funds tracked by Micropal, Alexandra has ranked No.1 for three years--through Nov. 1--with a gain of 83.8% vs. a sector average of 14%.
Filimonov argues Alpine is "the type of underappreciated value stock to buy in this volatile market." He notes that its assets are worth much more than Alpine's stock sells for. Alpine is a holding company with subsidiaries in telecoms and refractories--the heat-resistant bricks used to line blast furnaces.
Alpine took public 49.9% of its Superior Telecom unit last year. It makes copper wire and cable for phone companies, including the regional Bells. This business is robust--with capacity tight and prices rising--and Superior Telecom is gaining fast, says Stephen Balog of Furman Selz, a New York investment bank.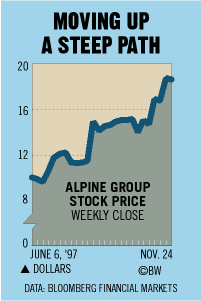 Alpine's refractories are emerging as a leader too, he adds. "As with wire and cable a few years ago, there's an opportunity for Alpine to be a consolidator in this fragmented industry," says Balog. He notes that Alpine's pact to acquire American Premier's refractories set a value for Alpine's unit: Its 85% interest in the business is worth $187 million, or $10 a share--"twice what we estimated."
Next year, Filimonov thinks Alpine will take public nearly 50% of the refractories operations. "That's another Alpine asset whose value the company will surely unlock," says Filimonov--as it did with Superior Telecom, whose value accounts for $13 of the Alpine stock price. Independent shares of Superior trade on the Big Board at 37.
Taken together, Superior Telecom and the refractories will be worth 30 to 31 a share in a year, says Balog.
Before it's here, it's on the Bloomberg Terminal.
LEARN MORE