A New Attack Plan For Acer America
This time, it's focusing on U.S. business customers
by
Acer Group Chairman and founder Stan Shih won't give up on his dream. For 21 years, he's toiled to build the maker of personal computers and peripherals into Taiwan's first global brand-name powerhouse, just like IBM or Sony Corp. But in the fast-moving U.S. market, he has stumbled--twice in the 1990s alone. Now he's betting the third time's a charm. "We are the pride of Asia," says Shih. "And if we can rise to this challenge [cracking the U.S. market], we can do a meaningful thing."
Shih is laying the groundwork for another assault on the critical market in America, where 35% of all PCs are sold. Having lost money for nearly two years with its Aspire line of home PCs, Shih is now zeroing in on small and medium-size businesses with a new lineup of modular desktop machines--called the AcerPower PCs--which will be backed by a $10 million advertising campaign.
That's not to say Shih is abandoning all hope of penetrating the U.S. consumer market. On Nov. 21, he announced that Acer will develop a line of low-cost computer appliances, called "XCs," designed for specific jobs from playing games to banking over the Internet. The XCs will sell for as little as $200 when they hit stores in Asia and other markets in 1998. If they're a hit, Acer may launch them in the U.S.
SINKING SALES. That could be a long shot--just as Shih's entire crusade for brand-name fame is in the U.S. Having failed to follow up on the Aspire's early success, sales of U.S. subsidiary Acer America Corp. have plummeted 51% for the first nine months this year vs. the same period a year ago, according to Computer Intelligence. That has depressed Acer's U.S. market share from 13% in early 1996 to less than 5% today. Shih expects the U.S. unit to lose $75 million on sales of $1 billion this year, due to chronic inventory miscues.
That, and a projected $55 million loss from TI-Acer, a memory-chip joint venture with Texas Instruments Inc., drove the parent company's stock down 60% since August, to $48.30. Now, Shih's goal for the Acer Group to reach $15 billion in sales by 2000 is in tatters. He figures total 1997 revenues will be just $3.8 billion, down 35% from $5.9 billion in 1996.
But despite U.S. problems, Shih expects Acer to earn $123 million this year thanks to strength in its core businesses. Besides being a top PC supplier in Africa, the Middle East, and Southeast Asia, Acer has a profitable $500 million-plus business making CD-ROM drives, monitors, and other components. And by focusing on making PCs for others to resell--a business that has catapulted it to the No.3 PC maker in the world--Acer could shrink its own marketing and research and development costs. "Brand name doesn't bring investors any benefit," says analyst Liu Chitung of SBC Warburg Securities. Adds an Acer America executive, who has pled with Shih to give up the brand pursuit: "I'd pull the plug."
But Shih isn't interested in continuing in Taiwan's traditional role as job-shop to famous foreign rivals. In August, he created a dual headquarters for the corporation. Now, he and other top execs spend a week or more a month at Acer America's Silicon Valley office. He also replaced longtime Acer America Chief Ronald Chwang with Max Wu, who built Acer's PC components business.
Shih, however, has moderated his goals. Job No.1: to return Acer America, which accounts for about 25% of Acer's total sales, to profitability by mid-1998. Over the next few years, he hopes to grow the unit by boosting sales to businesses to 70% of revenues, from 30% today. He insists Acer will ultimately get its brand status. "Brand is critical to our long-term success," says Shih. Worldwide, he wants to increase Acer's market share of branded products from 4% today to 5% by 2000.
HEAVY LOAD. Shih is making headway on his profit goals. Acer America's losses have fallen from $7 million a month in early 1997 to $3 million today, say analysts. By more carefully monitoring demand at retail outlets, Acer has cut inventory nearly in half, to 27 days.
Next, Shih is tweaking U.S. production. The company is consolidating PC assembly from five factories into an El Paso (Tex.) plant that will make 150,000 machines a month, nearly triple the usual factory load. Plants in San Jose, Calif., Miami, and Canada will build tailor-made PCs for corporate customers.
Still, the corporate market is proving to be a slog. Last January, Acer acquired TI's notebook computer division to gain an 80-person sales force. But sales of TI notebooks have plunged as much as 70%, say insiders, as big customers jumped to more established brands. "Let's face it," says William Y. Tauscher, CEO of Vanstar Corp., a large PC distributor. "Acer has done a marvelous job in other parts of the world, but they can't get off first base in the corporate market in the U.S."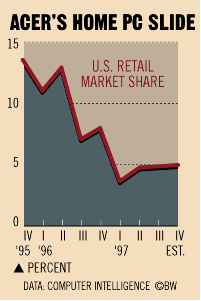 Acer officials insist the company's manufacturing prowess will help it offer customized products to businesses. The plan: target high-growth segments such as real estate and health care. Since it not only makes the PC but sells most peripherals, it can offer one-stop shopping. A real estate agent, for example, could order a PC pre-loaded with contact management software and digital cameras. Acer also is expected to announce a deal with a major U.S. bank to supply cheap Acer PCs to the bank's best customers for online banking.
Acer has pulled itself out of trouble in the past, notably when it suffered losses in the 1990s due to the high cost of expanding in the U.S. But for now, the company will have to continue cutting expenses and competing on price--not on the brand recognition Shih so covets.
Before it's here, it's on the Bloomberg Terminal.
LEARN MORE