A Bargain At Woolworth's?
by
After bowing out of general merchandise in mid-July, Woolworth (Z) stock sagged from 28 3/8 to 18 5/8 on Oct. 30. Woolworth closed 400 stores, turning 100 into Foot Locker, Champs Sports, and other specialty shops. But lately, the stock has edged up, buoyed by bargain hunters--including Michael Price, who runs Franklin Mutual Series Fund. He has 2.8 million shares, a 2% stake. Is Woolworth, now at 21, a buy?
Price wouldn't comment on his purchase. Says Gregg Hymowitz of Entrust Capital: "We believe Price sees what we have perceived--a stealth kind of restructuring at Woolworth that the market has yet to recognize." Over the past two years, he says, the company has improved--with reduced debt, a rebuilt infrastructure, healthy profit margins, and improved earnings per share on its continuing operations.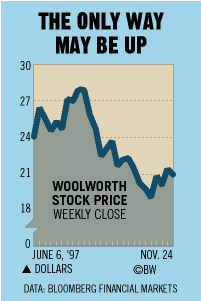 In short, says Hymowitz, Woolworth is in a growth mode. Woolworth has become more innovative, moving into catalogs and the Internet. In the third quarter, revenues declined 12%, to $1.6 billion, because of lower back-to-school sales, and earnings fell 29%. But he sees earnings next year of $2 a share, up from 1997's estimated $1.60. In 12 months, he expects the stock to hit 30.
Hymowitz and partner Mark Fife expect Woolworth to sell its German division. Woolworth in Germany, with sales of $1 billion, broke even last year and is expected to turn a profit this year. Fife and Hymowitz value it at more than $200 million. Hymowitz figures the proceeds from the sale may be used to acquire additional athletic retailers or to repurchase shares. Woolworth spokesman Jack Pagrabs says the company is focusing on an aggressive capital-spending program. He wouldn't comment on the sale of Woolworth in Germany.
Before it's here, it's on the Bloomberg Terminal.
LEARN MORE