Why Gabelli Is Buying Up Viacom
The long-running bull market has bypassed Viacom International (VIA). Its class A stock is at 32 a share, off its May 21, 1996, high of 43. "Among cable-TV and entertainment stocks, Viacom is the loaded laggard that hasn't moved," says investment maven Mario Gabelli. But don't count Viacom out, he says. Gabelli has just increased his stake from 5% to 8.5%.
Two events he says could lift the stock: a sell-off of assets and a turnaround in its Blockbuster Video unit.
Gabelli thinks that CEO Sumner Redstone will sell off a plum, specifically Simon & Schuster, which includes Simon & Schuster Children's Publishing Div., Prentice Hall, Scribner, and Free Press. "This operation will command a hefty multiple, says Gabelli, attracting major buyers. He figures S&S is worth $3.5 billion to $4 billion.
As for Blockbuster, Gabelli says in six months "things will improve dramatically," making the division "the catalyst for a 50% move in the stock price."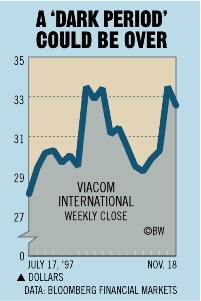 Lew Rabinowitz of R. Lewis Securities, also high on Viacom, figures it's worth 50, based on its assets and a turnaround at Blockbuster. Says Rabinowitz: "Redstone will do almost anything, including selling valuable assets, as Gabelli suggests, to make Viacom his last hurrah." David Londoner of Schroder investment bank says Viacom's cash flow has been down because of Blockbuster. But he thinks Blockbuster's "dark period" is over: It will emerge "with reduced costs, streamlined distribution, better inventory management, and greater focus." He sees Blockbuster in the black next year, no longer hobbling Viacom's cash-flow growth. Viacom spokesman Carl Folta won't comment as a matter of policy.
Before it's here, it's on the Bloomberg Terminal.
LEARN MORE