U.S.: Demand Takes The Backseat But Not For Long
Producers pick up the pace to prepare for stronger sales ahead
by
In the pas de deux of supply and demand, it is usually consumers who dance the primary role. But this quarter, producers may get more of the spotlight. Output started the quarter by growing far faster than domestic demand, and chances are that the quarter will end up the same way.
Normally, this far into a business cycle, the prospect of output running ahead of demand would be alarming because the imbalance typically results in an excessive buildup of inventories. That overhang can lead to production cuts, fewer work hours, and even layoffs.
This time, however, inventories ended the third quarter at extremely lean levels compared with the pace of sales. In fact, inventory accumulation slowed so much over the summer that it subtracted nearly 1 1/2 percentage points from the growth rate of third-quarter real gross domestic product. That drag is likely to reverse itself this quarter as producers ramp up output. The pickup ensures that economic growth remains in the neighborhood of 3%.
That's not to say that demand is weak this quarter. But during this entire expansion, consumer spending has moved in fits and starts. After its third-quarter surge, demand is rising at a cooler pace this period. But this mode is temporary: Fundamentals, including jobs, incomes, and finances, remain healthy. And a new wave of mortgage refinancings means that some households will end 1997 in even better financial condition.
THE ACCELERATION in goods production was evident from the October reading of industrial output. Total production rose 0.5% last month, with manufacturing alone up 0.6%. Makers of both business equipment and consumer goods posted healthy advances.
Over the past 12 months, industrial output has surged by 5.6%--the biggest yearly gain since early 1995 when industry was coming off its last miniboom (chart). The increase in output has pushed up capacity utilization as well. The average operating rate for all industry edged up from a revised 84.2% in September to 84.3% in October, the highest in 2 1/2 years. The factory rate rose from 83.1% to 83.3%.
Most of the goods are being snapped up by customers, both at home and abroad. But businesses are also trying to keep their warehouses full in anticipation of even stronger demand later on. Many companies may be losing the battle to stock up, however. While inventories held by manufacturers, wholesalers, and retailers rose a strong 0.7% in September, sales increased by an even more robust 1.3%.
As a result, the ratio of inventories to sales slipped to a near record low of 1.36 at the end of last quarter (chart). Manufacturers lead the drive to keep inventories lean. But neither wholesalers nor retailers show any excessive buildup in their stock levels.
Homebuilders also face an inventory crunch. At the current sales rate, the supply of new homes would last less than 4 1/2 months. That's the lowest in 26 years. In response, builders are moving quickly on construction projects. Housing starts unexpectedly increased 1.3% in October, to an annual rate of 1.53 million, on top of an 8% jump in September. Starts are running well above their third-quarter average (chart, page 30). And housing activity in 1997 is on track to post its best year since 1988.
Builders reported a slight slowing in housing activity for November, says the National Association of Home Builders. But since sales are expected to remain good, new construction will have to pick up to meet demand, given that there are so few homes on the market. True, weather is always a big factor in construction trends in the winter. Nevertheless, housing demand should stay solid as long as consumers remain so confident about the economy's future that they are willing to commit to the long-term investment of homeownership.
THAT OPTIMISM is not just pie in the sky. Consumer fundamentals look very firm amid hardy job growth, rising real wages, and this year's gains in stock and bond prices. Even the October market turns failed to quash optimism in early November, according to the University of Michigan's consumer-sentiment index. In addition, today's lower bond yields will help consumer spending later on. Not only will cheaper rates buoy demand for housing and related goods, but a new flurry of mortgage refinancings will give some households the discretion to spend more.
Thanks to the one-percentage-point drop in mortgage rates since April, refinancing applications have skyrocketed since September. The level is now back to heights not seen since the last refi boom of early 1996. Since these applications won't be approved for a few months, the current surge means many homeowners will see their monthly house payments drop just in time for last-minute Christmas shopping or to deal with their January credit-card bills.
In fact, despite the recent weakness in retail sales, there is little evidence to argue that consumers are growing weary of shopping. Retail sales slipped 0.1% in September and another 0.2% in October. But the drag came from vehicle buying. Excluding cars, retail sales rose solidly in both months.
THE EXPECTED BOUNCEBACK in demand, however, will not translate to any near-term inflation problem. Consumer prices rose just 0.2% in October from the previous month. The gain was the same when the volatile food and energy sectors were excluded. Total consumer prices are up 2.1% from a year ago, down from a 3% increase in October, 1996. Core prices, which exclude food and fuel, have increased only 2.3%, down from 2.5%.
The dropoff in the inflation rate has come mostly from goods. Core prices of consumer goods were up 0.5% in the year ended in October, one of the lowest rates on record. And producer prices of core finished goods have edged up just 0.4%.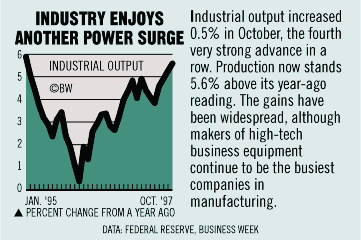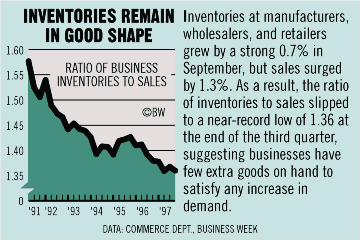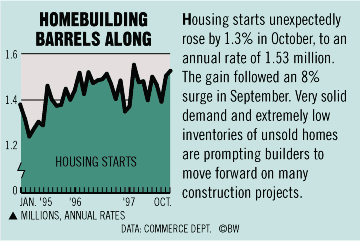 The chief reason: Falling import prices are helping to offset cost pressures building domestically. Prices of nonoil imported goods fell 0.3% in October, the fourth drop in a row. Such prices are down 2.3% from a year ago. With Asian currencies plunging, including the recent drop in the South Korean won, the region's exports to the U.S. will become drastically cheaper in coming months. The result will be downward pressure on goods prices here.
Those bargains probably won't show up at retailers until after the Christmas rush. However, consumers are basking in the best economic climate in a generation, so they may be less inclined to bargain-hunt this holiday season. Moreover, solid demand plus lean inventories mean that producers are also enjoying favorable economic conditions. And that combination of solid demand and robust output will keep the economy dancing to a very lively beat into 1998.
Before it's here, it's on the Bloomberg Terminal.
LEARN MORE