Tokyo May Be Getting The Message: Just Pull The Plug
It let one big bank go under, and a dozen others could follow
By
When Hokkaido Takushoku Bank Ltd., one of Japan's largest lenders, found itself unable to raise cash on Nov. 17, you might have expected regulators to swoop in and bail it out. Instead, the Bank of Japan stepped aside and let Takugin, as it is commonly known, go bust. Many investors see the government's willingness to let the long troubled bank collapse as a signal that Japan is finally getting serious about addressing the $800 billion in bad loans in its banking system before its economy suffers even more harm.
The tougher approach marks a sea change in attitudes that could bring about a wholesale restructuring of Japanese finance. Instead of pressuring stronger competitors to help keep badly injured banks alive, regulators may now simply let them go under if they can't raise funds on the markets. As many as a dozen more banks could be closed before the end of the year "if the Bank of Japan is really committed to attacking the [country's] financial problems," says ING Baring Securities (Japan) Ltd. analyst Richard Jerram. Already, write-offs of bad loans are mounting so rapidly that most major lenders are expected to declare losses in the fiscal year ending Mar. 31. Those with bigger losses could suffer Takugin's fate.
LITTLE CHOICE. Speculation over how Japanese authorities will confront the banking crisis is causing violent mood swings on the Tokyo stock exchange (chart). Reports that Prime Minister Ryutaro Hashimoto might be willing to pump public cash into a bank rescue program caused the Nikkei stock average to shoot up 11% on Nov. 17 and 18, only to fall 5% a day later when Hashimoto claimed he had been misquoted. But many observers continue to believe that if they are going to let the weakest banks fail, the government will have little choice but to put some public money toward protecting their depositors and stabilizing healthier lenders. Indeed, hours after Hashimoto roiled the stock market, Bank of Japan Governor Yasuo Matsushita said he'd like to see a "broad-based discussion" of the use of public money.
Japanese banks hope the government will use the Takugin bailout as a model for other troubled institutions. But many are reluctant to admit they might need public cash. Loan losses and corruption scandals have damaged their image and standing. Nonetheless, some senior bankers seem to be willing to take the heat if that brings about necessary reforms. "It is now necessary to inject large amounts of public funds into the financial system and to build a public consensus for doing so," says Hideo Ishihara, chairman of Goldman Sachs Japan and a former top executive at Industrial Bank of Japan Ltd.
It's not just the sagging Nikkei that is pressuring bankers and regulators toward a shift in attitudes. Corporate bankruptcies have reached a record high, just when Asia's financial woes threaten to leave lenders with up to $90 billion in new losses. And Hashimoto's Big Bang plan to liberalize financial markets starts to kick in next year, stepping up competitive pressures among banks, insurers, and securities firms. On top of that, the sagging stock market--down 59% since 1989--has eaten into banks' capital. Salomon Brothers Inc. believes that if Japanese regulators became as strict as their U.S. counterparts during America's banking industry clean-up of the early 1990s, Japan's 20 biggest lenders would need as much as $80 billion to bring their capital up to the global standards set by the Bank for International Settlements.
Bankers and analysts expect the Japanese to cobble together a recovery plan reminiscent of the Resolution Trust Corp.'s rescue of the U.S. savings and loan industry in the early 1990s. Over the past two years, Japanese regulators have been in close contact with their counterparts at the U.S. Office of Thrift Supervision and Federal Deposit Insurance Corp., quizzing them by fax and in person. But Japan's rescue probably will be carried out case by case, rather than as a wholesale assault, as was the case in America.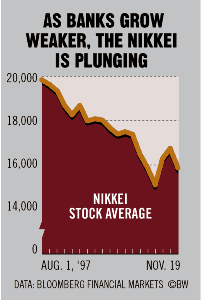 The Liberal Democratic Party plans in December to release a package of economic measures aimed at the financial system. That has raised speculation that the party will push state pension funds into buying new issues of bank pre- ferred stock to bolster their equity base. Some U.S. industry sources think banks could also gain liquidity by borrowing from the Bank of Japan or the Federal Reserve, using their $60 billion in U.S. Treasury securities as collateral.
The big issue now is whether weak lenders can be closed, merged, or otherwise taken care of before investors get jittery again. If the banking industry can be restructured, that could be a powerful agent of greater efficiency and economic growth.