These Cigars Are Really Smokin'
As cheroots go, so goes Swisher International Group (SWR), the world's No.1 cigar maker. With 32% of the U.S. market, Swisher is a popular play for pros who think the cigar craze won't go up in smoke anytime soon.
Swisher's stock has wafted up from 14 in mid-July to 18 on Nov. 18. Some money pros who have bought are betting it will hit 25 in six months. Among Swisher shareholders: Fidelity Investments and Putnam Investments.
Cigars have made a roaring comeback, particularly high-priced premium smokes, after many years of declining popularity. American demand peaked in 1973, when sales hit 11.2 billion stogies. By 1993, sales had slumped to 3.4 billion. Since then, consumption has perked up, rising last year by 12.3%, to 4.4 billion units, worth an estimated $1.2 billion. One big plus for Swisher: Rising demand lately has brought rising prices.
Swisher is pushing to sell more high-end cigars, where margins are heftier and growth is faster, says Swisher CFO Robert Britton. Hand-rolled, full-leaf cigars have a suggested retail price of as much as $14 apiece, he says.
"Since 1993, the sales of premium cigars--including imports--have grown at a compounded annual rate of 35.6%, while the total market has grown at 9%," notes analyst Ralph Jean of Wheat First Butcher Singer. Sales of cheaper domestic cigars have grown at 10%.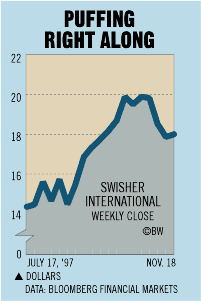 In mass-market cigars, Swisher's Sweets is the leading brand--in both units and in dollars. In premiums, the company has introduced new products to complement such mainstays as La Primadora and Bering. In October, Swisher opened a new factory in Honduras to produce hand-rolled premium cigars, and it signed a joint-venture agreement for a plant in the Dominican Republic. The other two big U.S. makers are Consolidated Cigar and General Cigar.
Jean says the market undervalues Swisher, in part because of uncertainty about proposed deals between Big Tobacco and Uncle Sam in various cities and states. Discounting the drag from such matters, Jean says earnings could still grow at a compounded annual rate of 30% over the next three years.
People in their 40s and 50s are the biggest cigar smokers, says Jean. This group, making up 39% of the population in 1993, will climb to 43% by 2000, he says. His 1997 earnings estimate is $1.15 a share vs. last year's 86 cents. In 1998, earnings should hit $1.50.
Before it's here, it's on the Bloomberg Terminal.
LEARN MORE