Switzerland: At Last, An Upswing. But Will It Survive The Euro?
Thane Peterson
The Swiss economy is finally coming in out of the cold. Switzerland has had the weakest economy in Europe throughout most of the decade: Its real gross domestic product fell by an average of about half a percentage point in every year from 1990 to 1996. But after another drop in the first quarter, things finally turned up in the second, when the Swiss economy grew by 0.2% from the year before, and Union Bank of Switzerland estimates that growth hit a solid 0.8% in the third quarter. UBS also figures GDP will rise 0.5% for all of 1997, and by 1.8% in 1998.
Growth, though, is concentrated in exports, which jumped 8.2% in the second quarter (chart). Foreign sales have been helped by the weaker Swiss franc, which has fallen 12% since the end of 1995 on a trade-weighted basis, and by the economic recovery in the rest of Europe, where exporters send 62% of their product. So far, Switzerland has largely escaped the fallout from the crisis in Asia, which accounts for 13% of its exports.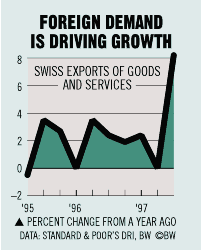 The big problem remains feeble domestic demand. Exporters, such as chemicals, pharmaceuticals, and watchmaking, are performing well. And expansion by those industries should boost business' investment in new equipment this year by about 2%. But the construction and real estate industries are still weak after severe overexpansion in the late 1980s. And there are scant signs that consumers will start buying anytime soon. Consumer confidence, as measured by a quarterly government survey, has improved but was still only -13 in October.
For the future, the biggest worry is Switzerland's prospects as an outsider when Europe moves to monetary union next year. The Swiss franc has already strengthened slightly in the last three months, especially against the German mark. If last-minute glitches occur in the move toward a single currency, a panic flight into the Swiss currency could drive the franc higher. And that rise could be enough to tilt the nation's warming economy back into the cold again.
Before it's here, it's on the Bloomberg Terminal.
LEARN MORE