Sterling's Strength Is Stoking Up Trouble
The strong pound and tight money could bring on recession
Stanley Reed
The British economy may be thriving, but you wouldn't know it to listen to British Steel Chief Executive Brian Moffat. One of the country's biggest exporters, British Steel, on Nov. 17 announced that operating profits for the first half of 1997 dropped by almost 50%, to $205 million. Moffat blamed the slump squarely on the strength of sterling, which has risen 11% against the German mark since January. He even wrote to Chancellor of the Exchequer Gordon Brown, saying the pound's value is uncompetitive.
For now, Britain's exporters are coping. But the mighty pound is hurting them. And there's a danger that the Bank of England's tight-money policy, which has helped boost the pound, will go too far and tip the country into recession. The latest hike in short-term rates, to 7.25% on Nov. 6, was the fifth quarter-point rise since the May election. That trend is drawing criticism from industry and economists. "We think the rate hikes were unnecessary, given the strength of sterling," says Garry Young, chief Britain economist at the nonpartisan National Institute of Economic & Social Research. Young's institute sees a 25% chance of recession next year.
If Britain is to avoid its usual boom-and-bust pattern, the central bank has a delicate task in the next few months. Within days of taking office, Brown and Prime Minister Tony Blair turned over control of interest-rate policy to the bank, a widely applauded move. They believe an independent and strict monetary policy is critical if Britain is to build the high-tech, new economy they have pledged to usher in. Trouble is, the bank is operating on assumptions from the old days, for example, that sustainable growth can't be more than 2% to 2.5%. That's why the 4% expansion estimated for 1997 makes it so nervous.
NO BRAKE. Yet Britain, while not as far along as the U.S. in taming the business cycle, has already changed. Workers are far more flexible than formerly. Foreign investment in manufacturing and information technology have boosted productivity. Such fundamental shifts have taken some pressure off wages. So Andrew Sentance, professor at the London Business School, thinks that unemployment, now at 5.2%, can stay in the 4% to 6% range without inflationary effects, a big shift from the past.
So far, the rate hikes have done little to slow growth. And the longer it takes to cool the economy, the higher rates will go and the harder the landing will be. Meanwhile, the bank must watch how its policies affect the pound, which draws investors seeking higher returns than those available on the Continent.
The central bank feels inflation in the air. Traditional manufacturing, growing at only 1.7% annually, is showing little price pressure. But the central bankers see another story in the service sector, where prices are rising at an average 5% clip. Executives at Manpower PLC, the temporary-help agency, say that some information technology workers it supplies are getting 20% higher wages this year than in 1996. Pay for skilled office staff is also outpacing inflation, now at 2.8%. Estimating that private-sector wage increases are running at more than 4.5%, central bank Executive Director and Chief Economist Mervyn A. King insists: "That is where the risks of inflation are."
The bank's caution is bad news for industrialists such as Andrew J. Cook, CEO of William Cook Ltd., Europe's leading producer of steel castings. Cook's company, based in Sheffield, exports about 35% of its $210 million annual output and sells much of the rest to other British exporters. Its margins are shrinking, and it is cutting back production at some plants. It has laid off about 50 of its 2,000 workers and has others working parttime. "I am not convinced that the interests of manufacturers and exporters have a place in the thinking of the Bank of England and government policymakers," says Cook.
He may be right. Manufacturing now contributes only about 21% of Britain's economy, so policymakers are more concerned about the health of the financial industry and other service providers, which have so far proved less vulnerable to higher rates and the rise of the pound. In fact, the strength of sterling has contributed to the buoyant stock exchange, which is up 17% for the year even after recent wobbles.
November's rate hike may not be the last. The bank is predicting a sharp slowdown next year, to well under 2% in the first half and 1% in the second. But such a drop-off is unlikely, says David Mackie, Britain economist at J.P. Morgan & Co. Mackie also thinks that underlying inflation will remain above the government's 2.5% target for some time.
There are signs that the monetary medicine is working. Housing price rises seem to be stabilizing at 6% to 7% per year, according to Halifax PLC, Britain's leading mortgage issuer. But consumption remains high, partly because people collected an estimated $60 billion windfall by cashing in their shares in newly privatized building societies. Retail sales in October jumped 6.4% from 1996.
Such red-hot consumer spending means manufacturers may have to endure a long siege of rate hikes. So far, they are showing grim endurance. At plants outside Edinburgh, Inveresk PLC churns out some $250 million a year in specialty paper. Nearly half the output is exported, with a third going to the Continent. This year, thanks to the pound, returns on its exports to Europe are being squeezed hard. But like many other exporters, Inveresk is hanging tough. "If you walk away from a Continental customer, you don't get him back in the next year or the next century," says Inveresk Managing Director Stefan G. Kay. "We are taking a hit on margins to support our customers."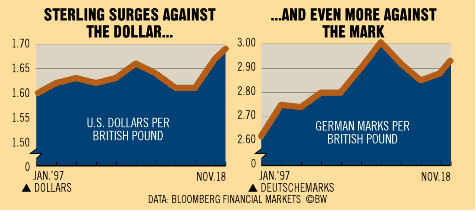 SOFTER BLOW. Other British manufacturers weathering the storm are subsidiaries of multinationals that can shift costs around. The sparkling car plant operated by Nissan Motor Manufacturing (UK) Ltd. at Sunderland in the Northeast exports 75% to 80% of its 230,000 annual vehicle production, but it is not planning to cut back. Its margins are hurting, but it's softening the blow by bringing in components from the Continent and Japan. In fact, Nissan plans to build a new model at Sunderland by the year 2000. "It would be dangerous for a global company to make snap decisions based on the exchange rate," says Deputy Managing Director John Cushnaghan.
But multinationals' flexibility and patience will not be infinite. With the economy still going great guns, interest rates are approaching the 8% to 9% danger zone that would make recession a near certainty. This looming policy dilemma was probably one reason Chancellor Brown surrendered his power to set rates to the bank.
But if boom turns to bust, he and the Labour Party will probably get the blame.
Before it's here, it's on the Bloomberg Terminal.
LEARN MORE