Now Arriving At U.S. Airports: Bombproofing
The FAA is finally installing the best systems it can find
Otis Port
For U.S. executives in the bomb detection business, Terminal One at New York's John F. Kennedy International Airport has been too long coming. Scheduled to open next summer, it may become the first airline terminal in the world to screen all luggage, both carry-on and checked, for explosives. Ironically, it is being built by foreign companies--Air France, Japan Airlines, Korean Air, and Lufthansa. The Federal Aviation Administration is helping, while also buying such equipment for many other airports. "From the start, our goal was 100% baggage screening, even if there was no FAA requirement," says Alain Content, who heads engineering and design at Terminal One Group Assn.
U.S. suppliers of explosives detection gear are tired of making excuses for Europe's more aggressive effort to thwart terrorist attacks. Compared with the U.S., Europe's airports have far more U.S.-made equipment for spotting hidden explosives. And the triple-check system being installed at Terminal One and other airports was hatched by BAA PLC (formerly the British Airport Authority). When it realized no single technology was up to the task of finding bombs in luggage, BAA was determined to find a solution--to avoid a repeat of the 1988 bombing of Pan Am Flight 103, which departed from London's Heathrow Airport. "That was a powerful motivation," says S. David Ellenbogen, chairman of Vivid Technologies Inc. in Woburn, Mass.
Here's how triple-check works: First, checked luggage is zapped with special X-ray beams from an automated system that's fast enough to process the mountain of bags heading for the belly of a jumbo jet. Usually, BAA does this "level-one" screening with a $400,000 machine from Vivid Technologies that can process up to 1,500 bags an hour, probing luggage with two different X-ray frequencies. These dual beams generate data for computing the chemical makeup of every object in the bag.
If the analysis finds anything that's close to the composition of an explosive or a weapon, the image of the suspicious object gets highlighted in color (photo) and is relayed to a nearby workstation for double-checking. There, the image is scrutinized by a skilled inspector, who can enlarge parts of the image or strip away details to help decide whether to let the bag pass. Alternatively, some airports use a more sensitive automated system at this stage, such as the CTX 5000 machine from InVision Technologies Inc. in Newark, Calif. It uses X-ray technology derived from hospital CAT scanners to dissect a bag's contents in minute detail.
When any doubt remains, BAA runs the bag through a rigorous "level-three" inspection, typically using a CTX 5000. Some British airports do the final check with "sniffers" that inhale vapors from the bag--explosives give off odors that are hard to eliminate--or microscopic particles on the bag. Sniffers and CAT scanners are precise but slow, but that's not a hangup at level three. Only about 1% of bags typically reach this stage.
Before the first plane leaves Terminal One, all of Britain's major airports expect to be X-raying 100% of checked luggage. Large airports throughout Europe plan to follow suit by 2003. Meanwhile, British airports will be racing to install bomb detection systems for carry-on bags as well, so Terminal One's exclusive status may not last long.
FRESH FUNDS. For American travelers, there's more good news: Security gear is heading in volume for busy airports around the U.S., although when and where is a secret. The FAA doesn't want to tell terrorists which airports to avoid.
The floodgates opened in October, 1996. Reacting to the fear that TWA Flight 800 had been bombed, Congress coughed up $144 million to buy explosives detection equipment. The FAA hopes to get at least $100 million annually for the next few years, although no evidence of foul play was found in Flight 800. Even if the FAA gets what it wants, it will take more than a decade to upgrade just the 75 busiest airports. Where the money will come from is up in the air. One possibility: a surcharge on tickets. Britain figures its investment for screening cargo luggage amounts to less than $1 per bag. "So, for a couple bucks a bag, all U.S. airports could build a tight ring around airplanes," says Jeffrey J. Langan, president of Thermedics Detection Inc. in Chelmsford, Mass. Its sniffers will be used in Terminal One to double-check carry-on bags.
Congress also freed the FAA from a legislative straitjacket that had required equipment to be certified before it could be deployed. That has been a big stumbling block. Seeking a foolproof solution, the FAA set tough standards. Systems have to screen 450 bags an hour while spotting explosives with a specific but secret minimum accuracy. So far, only InVision's machine passes muster, and it meets the 450-bag mark only when two $900,000 machines are cobbled together to form a system.
Now free to follow Britain's lead in putting the best available equipment in airports until something even better comes along, the FAA is buying 54 InVision machines, 500 sniffers, and dozens of advanced X-ray systems from American Science & Engineering, EG&G Astrophysics, Vivid, and Israel's Magal Security Systems. So in less than a year, the U.S. has gone from backwater status to a hot market.
HYBRID CATS. New technology is already bubbling up. The FAA is doling out development grants to old-timers and newbies alike. L3 Communications, a Lockheed Martin spin-off, got $12 million for a new type of CAT scanner that may give InVision a run for its money.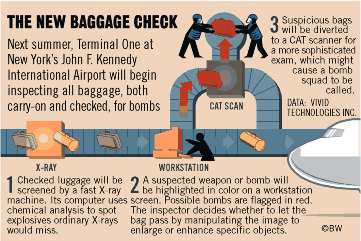 Not to be outflanked, InVision has bought Quantum Magnetics Inc., which uses "quadrupole resonance" (QR) to spot explosives. The technology is similar to magnetic-resonance imaging systems in hospitals. InVision President Sergio Magistri says a CAT-QR hybrid will be even more accurate than today's CTX and combining QR plus dual-beam X-rays could be just the thing for screening carry-on bags. "We expect the market to grow a lot" and create plenty of room for new rivals, says Magistri.
All of which promises to make flying safer than ever. And if the tab is just $2 a bag, it'll be a bargain.
Before it's here, it's on the Bloomberg Terminal.
LEARN MORE