No Love Lost At Love Field
Airlines and pols are wrestling over the Dallas airport's future
Wendy Zellner
Like a general planning for war, Dallas aviation director Danny L. Bruce pulls out a large, color-coded map of Love Field to show where airlines might set up camp at this onetime Army airfield. Because of longstanding restrictions on flights from Love, only Southwest Airlines Co. serves the airport, a convenient four miles from downtown Dallas. But the 18-year-old federal law curbing flights from Love has been modified, and Bruce is getting ready for the day when his airport might start fully competing with the massive Dallas/Fort Worth International Airport, eight miles west.
In short, American Airlines, which dominates DFW with 70% of the flights, could face new competition at Love Field--particularly if Southwest expands its schedule. American insists it would have to serve Love to keep its passengers, thus weakening its DFW hub. Fort Worth, American's hometown, fears a loss of jobs and economic development. On the other side are some congressmen and consumer advocates who want to see more competition and curb soaring business airfares. Southwest says it is "passionately neutral" on the issue.
MODEST PROPOSAL. Already, Fort Worth has sued Dallas to maintain the status quo at Love Field; Dallas has countersued; and a federal judge on Nov. 12 ordered both to settle the mess. American Airlines CEO Robert L. Crandall, renowned for his combative style, "is making it very clear he's not prepared to lose this battle," says an American backer. Indeed, federal law notwithstanding, Crandall fumes, "It is none of Washington's business" how Dallas uses its airports. In a recent local newspaper ad, American declared: "Let's Not Let Washington Shrink DFW Airport."
But DFW is hardly threatened. For starters, the new federal law only modestly loosens restrictions at Love. And the upstart airline that pressed for changes, Dallas-based Legend Airlines, has yet to commence operations.
Legend isn't American's main target, though. What the airline and its allies want to head off is an effort to completely remove the Love Field restrictions. Under the so-called Wright Amendment, passed in 1979 with the goal of encouraging development at DFW, airlines using Love were limited to serving Texas and the four adjacent states. Commuter airlines using planes with 56 or fewer seats could fly anywhere.
But today, DFW needs no help. So when Legend applied to fly DC-9s stripped down to 56 seats from Love Field and the Transportation Dept. nixed the plan, Senator Richard C. Shelby (R-Ala.), head of the Senate Appropriations Subcommittee on Transportation, took up Legend's cause. Flights from Love were allowed to three more states and Legend can now fly its stripped planes anywhere.
FARE WAR? Now, Shelby is vowing to push for a full opening of Love. That's a clear threat to American's pocketbook since Southwest would undoubtedly expand its flying from Love. The low-fare leader has driven down airfares wherever it goes. From Love Field, the carrier would likely fly to such places as St. Louis, Chicago's Midway Airport, and San Francisco. One rival airline executive figures American could lose up to $250 million a year in profits if American has to match some Southwest fares.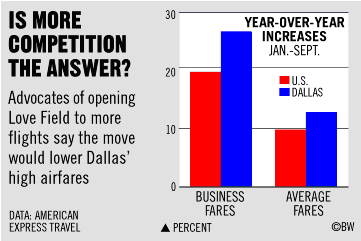 American is scrambling to generate community support. But a Dallas Morning News survey shows 69% of North Texas residents in favor of repealing the Wright Amendment. And American's warnings that DFW would become a second-tier airport face plenty of skeptics. "Would American's P&L [profit and loss] go down? Absolutely," says one rival. "Would DFW become a non-hub? Give me a break."
The Transportation Dept. reached the same conclusion in a 1992 study of the Wright Amendment. "Under all possible scenarios, Dallas/Fort Worth Airport will continue to grow and remain the region's dominant airport," the study concluded. But if American has its way, that theory will never be tested.
Before it's here, it's on the Bloomberg Terminal.
LEARN MORE