Levi's Is Hiking Up Its Pants
But will the brand's revamped products and marketing play with turned-off teens?
Linda Himelstein
Back in September, Levi Strauss & Co. was all set to ship to retailers its newest invention: a line of blue jeans called Special Reserve. Samples had been made. Stores had placed orders. Levi's had even handed out T-shirts with the Special Reserve logo at an August sales meeting in Palm Springs, Calif.
But weeks before the debut, an unprecedented thing occurred. Thomas A. Fanoe--two months into his reign as president of Levi's USA--pulled the plug on the launch and sent nearly a year's worth of work into the circular file. Why? Because Special Reserve, which was likely to appeal to consumers 25 years and up, didn't solve Levi's core problem: teenage indifference.
That's quite a turnabout for a brand once synonymous with rebellious youth. While Levi retains its hold over the baby boomers who built the brand into mythic proportions, the company has neglected the whims of the latest crop of teens. "They missed all the kids, and those are your future buyers," says Bob Levy, owner of Dave's Army & Navy Store in New York, which devotes 50% of its shelves to Levi products.
TIGHT FIT. The oversight has cost it dearly. With shrinking teen sales one of the key factors in the erosion of its once dominant market share, Levi Strauss was forced to announce on Nov. 3 that it would shutter 11 of its U.S. plants and lay off one-third of its North American workforce. The news followed a similar announcement in February in which Levi's said it would lay off 1,000 salaried U.S. employees.
Of course, increased competition added to Levi's tight fit. But the San Francisco clothing giant's biggest problem is plummeting market share: In 1990, Levi Strauss had 30.9% of the U.S. blue-jeans market, but it has just 18.7% today, according to estimates by Tactical Retail Solutions Inc., a researcher in New York. Most troubling has been the drop among consumers aged 15 to 19. Levi says it enjoyed a 33% share of their jeans dollars in 1993, vs. about 26% now.
Missing those buyers can be a long-term mistake. "It's very important that you attract this age group," says Gordon Harton, vice-president for the Lee brand at rival VF Corp. "By the time they're 24, they've adopted brands that they will use for the rest of their lives." Worse, since teens set fashion trends that influence even older shoppers, their defection to other brands affects sales all down the product line.
Caught with its pants down, the $7 billion company is scrambling to get back on track. Top management is giving virtually every aspect of the Levi's brand the once-over. Some products are being repositioned, while others are being scrapped altogether. Hiring policies are being reviewed to cultivate new talent and bring in fresh ideas. And marketing initiatives, including the company's 67-year-old relationship with ad agency Foote, Cone & Belding, are being completely revamped. "We are examining every element of the marketing, big M, of the Levi's brand," says Fanoe. "That means product, distribution, advertising, public relations, customer service. Everything."
UNCOOL. How did the undisputed king of denim get into this hole? Levi's Chairman and CEO Robert D. Haas says it was, in part, the classic corporate goof: taking your eyes off the ball. Proj-ects during the last decade, such as expanding the casual clothing line Dockers and launching its upscale cousin Slates, distracted executives from the threat to Levi's core jeans brand. "When you try to take on too many things, you are not as attentive to the warning signs," he concedes.
The warning signs became sirens at a July 31 meeting, when top U.S. managers learned the results of a yearlong research project into what the kids of baby boomers--called the Echo Boom generation--think of the world's largest branded-apparel maker. The news wasn't good.
For half a day, executives, product managers, and marketers of the Levi's brand in the U.S. watched teen after teen on video talking about the blue-jeans king as if it were a has-been. Levi's, they said, was uncool, more suitable for their parents or older siblings than for fashion-conscious kids. "That was scary," recalls Stephen Goldstein, vice-president for marketing and research for Levi's USA. "Kids say they love the Levi's brand. But if you ask them whether it's `with it,' they'll say no."
Meanwhile, the competition had made inroads. Top-end designers such as Tommy Hilfiger and Ralph Lauren have squeezed Levi on one end, while private labels sold by low-priced retailers such as J.C. Penney Co. and Sears, Roebuck & Co. have come on strong from the other direction. Trends such as wide-legged and baggy jeans took hold without response from Levi. "Levi Strauss was zagging when the world was zigging," says retail consultant Alan Millstein. "The company totally missed the significance of the inner city and the huge impact it has on trends. It tells me they're sleepy in their marketing."
But Levi execs seem to be waking up. The decision to scrap Special Reserve came in tandem with a move to pump up Levi's Silver Tab brand, the eight-year-old jeans line that is considered more stylish among young consumers. Indeed, the median age of those who buy Silver Tab apparel is 18, compared with about 25 for other Levi's products. With its baggier fits and use of more than just denim fabrics, kids tag Silver Tab as Levi's hippest clothes. So the company plans to expand the line to include more tops, more trendy styles, and new khaki pants.
CAR WASH. To catch teens' attention, Levi plans to spend five times as much in 1998 as it did this year on promoting Silver Tab. And for all its brands, it's also increasing marketing aimed specifically at teens. For instance, Levi is sponsoring concerts in New York and San Francisco for up-and-coming bands playing music known as Electronica. It's also outfitting characters on hot TV shows, such as Friends and Beverly Hills 90210. "As the Echo Boom generation goes, so goes Levi Strauss & Co.," says Goldstein. "We have to be relevant to this population."
The quest to jazz up Levi's image has also left the company searching for a new ad agency: A review, which includes longtime agency Foote, Cone & Belding, is under way. Although Levi has attempted to target teens in its latest ads, so far that hasn't translated into improved sales. Levi says its most recent TV campaign--featuring images such as a young man driving through a car wash with the windows down--has logged positive response from young consumers on the company's Web site. But when kids hit the stores and found them stocked mostly with traditional styles, Goldstein concedes, they didn't buy.
JAZZIER PACKAGES. Another way Levi hopes to overcome that problem is by working over its retail presentation and the packaging and labeling of all its goods. In 1998, the company says it will come out with jazzier, more colorful packaging aimed at giving its products a more exciting, youthful look. And Levi has ditched plans to open more than 100 new stores in malls around the country. Instead, it will follow Nike Inc.'s retail approach and open a handful of grand flagship stores in big cities. The first one is set to open in San Francisco in 1999.
But marketing and products aren't all that's getting a makeover. The company is also shaking up management. Now, Levi is considering a plan calling for 30% of all new management jobs to be filled by outsiders. Critics argue that one reason Levi appears to be losing touch with what's happening in the marketplace is that it doesn't recruit enough outside executives or solicit enough independent opinions. "It has always been insular, paternalistic, and, quite frankly, a little smug," says Isaac Lagnado, president of Tactical Retail Solutions.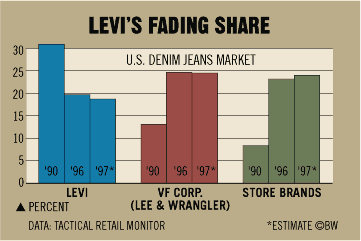 Will this work? Most industry experts believe that the 140-year-old apparel giant can right itself--given its vast resources and still formidable market presence. But it's likely to be a difficult, multiyear process. Retailer Levy says the wake-up call comes none too soon. "They are facing the problem," he says. "That's important because they weren't doing it before." No one is more confident than Haas. "From time to time, any brand is likely to have periods of great strength and relevancy and periods of regrouping and refocusing," he says. "We're going to restore the Levi's brand with consumers." The trick will be to keep the generation that grew up on Bob Dylan, while understanding the new age of Electronica.
Before it's here, it's on the Bloomberg Terminal.
LEARN MORE