How Green Tree Got Pruned
The aggressive lender is hit by a high rate of refinancings
Andrew Osterland
For years, Green Tree Financial Corp. has been a standout in the consumer loan industry. It is the leading lender for owners of manufactured homes--better known as trailers--with a $17 billion portfolio of such loans. And its earnings growth and lofty stock price have made Chairman and Chief Executive Lawrence M. Coss prominent for his outsize pay: He took home $102 million last year, the highest CEO salary in America. Green Tree has also been notable for avoiding the pitfalls in consumer finance while other lenders, including Mercury Finance Co. and Cityscape Financial Corp., which also specialize in pushing higher-priced loans to riskier consumers, got whomped by bad loans.
No more. Green Tree has been humbled, at least temporarily. The immediate cause seems to be an unexpectedly high rate of refinancings among its clientele. On Nov. 13, Green Tree, whose shares have risen tenfold over the past six years and which had 1996 net income of $309 million, stunned investors by announcing an upcoming fourth-quarter charge of $125 million to $150 million. It will cover a writedown of receivables booked on loans made in 1994 and 1995. Green Tree's stock has fallen 22%, closing at 31 7/16 on Nov. 19. Nearly $1 billion in Green Tree debt was downgraded on Nov. 18 by Standard & Poor's Corp.
Analysts say Green Tree is not likely to experience permanent damage. But the charge has exposed a penchant for aggressive accounting, common among many "subprime" lenders, and tarnished Green Tree. Says one big investor who closed out his fund's position after the Nov. 13 announcement: "They now have a credibility problem."
What went wrong? Green Tree makes its money originating, servicing, and then selling trailer loans. It also writes home-equity loans and equipment-financing contracts. In all its deals, Green Tree pockets the difference between the interest it pays investors on the securitized loans and the interest it collects from borrowers. The value of those payments, though, can vary.
When Green Tree securitizes loans, it has to book as revenue the present value of the expected interest payments. This number is derived using several assumptions, the most important being the rate at which borrowers will pay off their loans. When interest rates fall, borrowers are able to refinance and prepay their old loans--and Green Tree receives fewer interest payments. When Green Tree booked the interest receivables for home loans it made in 1994 and 1995, it assumed a prepayment rate of 6%. But with falling interest rates and increased competition, that rate is actually about 12%. Hence the reserve.
Some Green Tree watchers are willing to forgive the company. "In hindsight, it's easy to say they were overaggressively booking their loans," says analyst Michael K. Diana of Smith Barney Inc. "But there's no way to tell how long loans will be on the books."
QUICK REBOUND? That's increasingly true as competitors enter Green Tree's markets. Rivals such as BankAmerica, Associates First Capital Corp., and United Companies Financial are targeting Green Tree customers for refinancing--and winning them away. Green Tree spokesman John A. Dolphin says the company has created a staff of about 50 people to deal with customers trying to refinance. "It was a tough lesson to learn, but we feel good going forward," says Dolphin.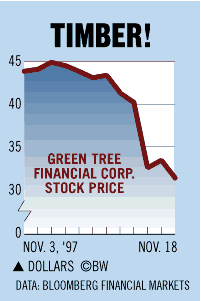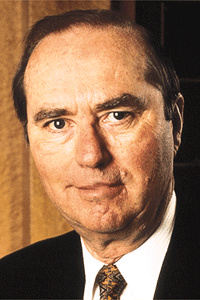 Not all analysts are sure that Green Tree can mount a quick rebound. "I was a strong backer. Now I'm lukewarm," says analyst Jeffrey K. Evanson of Piper Jaffray Inc. He says Green Tree's writedown wasn't just a result of refinancings but also of increasing defaults, particularly tied to a new lending program that requires only a 5% downpayment. As the company enters new markets such as home-equity loans, the risk of negative surprises will rise, he says.
Despite its problems, Green Tree remains a top subprime lender. But if refinancings continue to increase, its earnings could be trimmed even more.
Before it's here, it's on the Bloomberg Terminal.
LEARN MORE