Hitching Galoob To Star Wars
Shares of Galoob Toys (GAL) have tumbled, because of disappointing earnings and a deal it signed with filmmaker George Lucas. The stock is at 12, down 10 points in a month. Good news on earnings won't come till 1999, notes Sean McGowan of Gerard Klauer Mattison, a New York investment firm. So why is McGowan high on Galoob?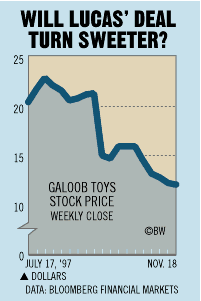 With its stock so low--and a rebound on the way in 1999--Galoob is "attractive as a takeover candidate," says McGowan, who notes that Lucas is Galoob's largest stakeholder. Lucas acquired warrants equivalent to 20% of Galoob through a deal with his Lucasfilm. That pact gave Galoob worldwide licensing rights to produce Star Wars action figures, vehicles, and games, including handheld electronic games.
The Lucas deal, announced in mid-October, caused the stock plunge. Apart from warrants valued at $57 million, Lucas will get $140 million in royalties.
Despite the skeptics, McGowan thinks that the Lucas contract will benefit Galoob in the long run. He figures that sales from the Lucas contract, combined with revenues from Micro Machines and other toys, could generate revenues of $475 million and earnings of $2 a share in 1999. McGowan estimates that Galoob could command a price of 25 or more in a buyout, assuming the buyer retains the Star Wars rights.
Before it's here, it's on the Bloomberg Terminal.
LEARN MORE