Allianz Agf: Anatomy Of A Megadeal
The cloak-and-dagger tale of the Allianz-AGF courtship
David Woodruff and Gail Edmondson
At about 8 p.m. on Oct. 31, Antoine Jeancourt-Galignani stepped into a chauffeur-driven limousine at the Munich airport. With darkness as cover, the chief executive of Paris-based Assurances Generales de France sped to a top-secret meeting at the modest headquarters of German insurance giant Allianz, nestled in Munich's famed English Garden. Over dinner, Allianz CEO Henning Schulte-Noelle and CFO Diethart Breipohl discussed with Jeancourt-Galignani a merger that would create Europe's largest insurance company.
After that first meeting, two weeks of cloak-and-dagger negotiations culminated on Nov. 18 at a Paris press conference to announce the deal. The marriage, which values AGF at $11 billion, trumped a hostile, $9.4 billion bid made on Oct. 13 by Antoine Bernheim, chief executive of Italian insurance titan Assicurazioni Generali. So far, Bernheim has maintained a stony silence, even rebuffing courtesy phone calls from Schulte-Noelle. But analysts and investment bankers close to the deal say Bernheim may mount a counterbid. "We won't celebrate before the deal is finished," says the Allianz CEO.
Such fast-paced, high-stakes poker reflects the sense of urgency gripping executives at Europe's financial-service companies. They expect the Continent's common currency, due in less than two years, will unleash a quantum leap in competition as cross-border business heats up. And they're falling all over each other to secure new customers in everything from life insurance to mutual funds, as wobbly public pension systems force hordes of consumers to save for their own retirement. "Everybody is out to spread their grasp," says Mike Young, European equity strategist at Goldman, Sachs & Co.
Allianz and Generali haven't been the only companies courting AGF. A half-dozen insurers expressed strong interest in AGF after Jeancourt-Galignani and his board formally rejected Generali's offer on Oct. 16. The following morning, a team of investment bankers from Goldman Sachs and Credit Suisse First Boston met with AGF executives to launch a search for a white knight. They immediately began sounding out possible partners. After Allianz, the main contenders for AGF were Britain's Commercial Union PLC and Royal & Sun Alliance Insurance Group PLC, say bankers familiar with the talks. In addition, two Dutch insurers, a U.S. outfit, and another German insurance company seriously eyed AGF.
But Allianz, overtaken last year as Europe's No.1 insurer when France's AXA and Union des Assurances de Paris merged, moved quickly to clinch a deal that would put it back in the top spot. Schulte-Noelle, a 55-year-old lawyer with an MBA from the University of Pennsylvania's Wharton School, engaged the venerable French bankers Rothschild to handle negotiations. On Oct. 13, hours after Generali's bid was made public, associate director Edouard Rothschild phoned Allianz CFO Breipohl and Dominique Bazy, head of Allianz' French subsidiary, to ask if they would consider a friendly merger with AFG.
The day after AGF rebuffed Generali's hostile offer, a Rothschild team jetted to Munich to help Allianz shape its bid. During weeks of frenetic negotiations, AGF and Allianz teams used code names to ensure that no leaks would alert rival Bernheim. AGF became "Anita," and Allianz "Alexandra." Athena, another French insurance company that AGF is in the process of acquiring from holding company Worms, was called "Amanda."
There was a slightly byzantine twist to the investment banking saga behind the deal. Back in February, Allianz had approached AGF about a merger, with informal advice from Lazard Freres & Co., and was rebuffed. Just eight months later came the bid from Generali's Bernheim. Outsiders have noted that Bernheim is a senior partner at Lazard.
For an executive under attack, AGF's Jeancourt-Galignani had some bold demands. The 60-year-old former head of Banque Indosuez and graduate of France's Ecole Nationale d'Administration wanted AGF to retain its autonomy--even if Allianz had majority control. He wished to remain at the helm, with Allianz holding only a minority of the seats on AGF's board of directors. And to ensure that AGF's stock remained in circulation, he asked Allianz to pursue only 51% of its shares.
Schulte-Noelle quickly agreed. That approach fit Allianz' decentralized style. The company has just 350 headquarters staff, and most decision-making falls to local and regional managers--even within Germany. Moreover, Schulte-Noelle was keenly aware of French sensitivity to foreigners' gaining control of important companies. He watched as Finance Minister Dominique Strauss-Kahn delayed the final O.K. for Generali's bid. That gave AGF time to line up a partner on friendly terms. Allianz "did not want to be seen as an aggressive German invader," says an investment banker involved in the deal.
The trickiest hurdle, which took several weeks to overcome, was finding a way for Allianz to bid for just half of AGF's shares. With Rothschild's guidance, the German company fashioned an incentive for some investors to hang on to their stock. If AGF shares trade for less than the offering price of $55.17 apiece in June, 2000, shareholders have the right to sell each one to Allianz for $62.07, a healthy 12% premium. If the share price lies between $55.17 and $62.07, Allianz will make up the difference to $62.07.
At the moment, Bernheim and Generali look like losers in this deal. Allianz' offer, 6.6% higher than Bernheim's bid and 33% above AGF's share price two months ago (chart), may make it hard to justify a higher bid. Investment bankers think Generali's board would balk at making a counteroffer. Bernheim declined to be interviewed.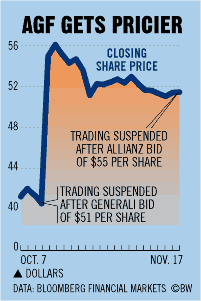 KEEP IN TOUCH. The 73-year-old Frenchman could snag a consolation prize. He could end up with Aachener & Munchener Beteiligungs (AMB), Germany's third-largest insurer. Allianz and AGF between them own 38% of AMB. Taken together, all three companies control nearly one-third of the German insurance market, Europe's largest. To placate the European cartel office in Brussels, Allianz officials say they will likely orchestrate the sale of AMB. Generali would be a prime potential buyer. Allianz officials say the message Schulte-Noelle has tried to pass to Bernheim in recent days is: "Let's stay in touch."
Whatever the final outcome, the current takeover battle sends another message to Europe's many regional, midsize insurance companies. With executives such as Schulte-Noelle and Bernheim on the prowl, the chance of being swallowed rises every day.
Before it's here, it's on the Bloomberg Terminal.
LEARN MORE