A Boiling Kettle In The Land Of Tea
Amy Louise Kazmin
At Tata Tea Ltd.'s isolated Diffloo Tea Estate in India's northeastern state of Assam, the manager's bungalow sits atop a hill surrounded by about 1,200 acres of tea bushes. In the spacious, colonial-era home, estate manager Vijay Singh and his wife enjoy an idyllic lifestyle much like that of the British planters who developed Assam's tea industry in the 1880s. But not completely. A 12-foot barbed-wire fence surrounds the bungalow. Heavy metal bars cover the windows. From an observation tower, an armed guard scrutinizes visitors. Singh carries a walkie-talkie when he moves about the plantation and is followed by armed guards. When the family shops in nearby Jorhat, three guards come along. "It's crazy," Singh tells me as we sip tea on the terrace. "But you can't take a chance."
Not these days. Assam, which produces half of India's tea, has been troubled by secessionist and tribal insurgencies for the past decade. Some 900 people have been killed just in the past three years, according to India's Home Ministry, and thousands more displaced. The militant United Liberation Front of Asom (ULFA) wants to establish Assam as a separate country. And the Bodos, a tribal group, are fighting for their own autonomous area. A year ago, Bodo rebels blew up a railroad track, derailing a train and killing 35 passengers and crew. The groups, which operate in different sections of the state, aren't connected but seem to have a tacit agreement not to interfere with each other.
The insurgency's effects on Assam residents was clear during my visit last spring. The day before my departure, ULFA suddenly called a 24-hour strike, demanding that offices close and people remain inside their homes. Despite friends' warnings, I was determined to leave and rousted up a private van and driver. Crouched in the backseat, I made the 30-minute drive to the airport along a highway that was deserted except for soldiers. The empty road underscored ULFA's power and how much people fear defying the militants.
Tea plantations have buckled under, too. When the ULFA insurgency started a decade ago, it targeted tea gardens as a source of funds, extorting cash for peace. "The government attitude was: `Go and fend for yourself,"' says an executive of one of India's biggest tea companies. In 1990, leading tea execs met with ULFA rebels at a remote plantation and were told at gunpoint to pay a "production tax." After the murders of several planters and tea-garden managers, many companies gave in. Since then, state officials charge, tea companies have shelled out at least $150 million in cash and supplies, not only in protection money but also to ransom abducted executives.
OLD WAYS. All this comes at a difficult time for Assam's tea plantations. They desperately need to modernize their century-old industry to face new rivals in Kenya and Sri Lanka. India, still the world's largest tea producer, has seen its share of world tea exports plummet by nearly two-thirds, from about 33% in the mid-1970s to about 12% today. India's protected domestic market is under pressure, too, with blenders such as Unilever PLC's Indian subsidiary pushing to import cheap foreign tea to India for growing domestic consumption. To cope, Assam's tea plantations urgently need to mechanize plucking, expand cultivation, replant aging bushes, upgrade processing, and increase value-added products.
Tea planters aren't the only victims of the militants, who have also targeted Assam's oil industry. Last year, rebels blew up an oil pipeline. Rigs have been disabled and executives abducted and murdered. The result is stagnant production and drastically curtailed exploration. One oil official told me that the violence "was a seriously complicating factor" in his refusal to explore there.
The turmoil is causing economic problems for the state government, in part because of the cost of fighting the rebels. The government started a military crackdown on them this year, and now it's blaming tea officials for cooperating with the militants. The cash-strapped government just published a booklet, Tea's Sinister Links, about the "tea-militant nexus." In September, Tata Tea's Assam operations manager was arrested and charged with aiding and abetting terrorists. Tata had paid medical and hotel bills and airfare for a pregnant ULFA leader. Tata claims it did not know the pregnant woman was an ULFA member. But it admits trying to appease militants by pouring money into social-welfare programs, including a medical scheme under which an ULFA leader was treated.
FAILED STRATEGY? Police claim they have seized records from Bodo rebels that document payments from Williamson Magor & Co., another tea company. Assam Chief Secretary V.S. Jafa, who oversees the military offensive, defends investigations into tea companies as a necessary way to cut funds to the rebels.
Assam's tight-knit tea fraternity says it has had to protect itself, since the government has been ineffective. In the past five years, 13 tea officials have been kidnapped. One was killed, and just two were rescued by police. Companies deny paying ransom, but it's generally believed that they did. Tea gardens are tucked into remote areas, roads are appalling, and phones are unreliable. Police are equipped with World War I-era weapons, no match for well-armed militants.
So it's no wonder that tea-garden families have curtailed their once-frenetic socializing. One manager refused to let me leave after dark. Since long-distance lines in the area were down, I was driven to a nearby military post, where the army relayed my message to friends who were expecting me.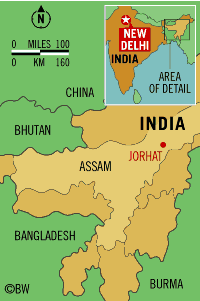 Planters say the government should target militants, not the tea industry. "They are blaming us for trying to sort out something for ourselves," says Ranjit Sarmah, who oversees independent estates in the Jorhat area. Adds Indian Tea Assn. Chairman Vinay Goenka: "Let's join hands and fight together. For God's sake, don't put [tea executives] behind bars."
Yet some planters feel their colleagues erred in thinking they could buy peace. By paying protection money, "they strengthened their enemy," says H.P. Barooah, a leading Assam planter. "They should have taken a stand." Now, Assam's tea growers hope they haven't made that enemy invincible.
Before it's here, it's on the Bloomberg Terminal.
LEARN MORE