U.S.: Fragile Markets Are Tying The Fed's Hands
But a strong job report raises questions about holding rates steady
by
Suddenly, policy choices at the Federal Reserve are getting a lot tougher. Thanks to the October job data, the Fed is faced with mounting evidence that a rapidly growing economy is pushing labor markets beyond their noninflationary limit, and that some inflation insurance for 1998 might be warranted. However, the Fed knows that an interest-rate hike amid shaky global financial markets would risk further calamity, both abroad and at home, as Wall Street worries that Asia's problems will fall back on U.S. companies.
That's why the Fed has decided to stand pat on policy for now. The central bank may be encouraged by the prospect that the Asian crisis means fewer exports and cheaper imports, a combination that would slow U.S. growth and hold back inflation. The crisis also may let some more air out of the stock market's bubble. Consequently, policymakers voted on Nov. 12 to keep the overnight federal funds rate at 5.5%, where it has been since the quarter-point hike on Mar. 25.
The trouble is, the extent of the Asian fallout on the U.S. economy will not be known for some time. And if the impact turns out to be small, as some economists estimate, then last month's employment report might well become a key focal point of economic hindsight in 1998. The report raises questions about the Fed's current inaction--on the very grounds put forth by Fed Chairman Alan Greenspan on Oct. 8, when he warned that the growing imbalance between labor demand and supply could eventually lift inflation.
After Greenspan's abrupt change of tone last month, expectations of a rate hike rose. And the latest numbers show that unrelenting strength in domestic demand is stretching the labor markets to the breaking point (chart). If the financial markets were not so fragile, the job data would have galvanized Fed support for an increase. But for now, the Fed's hands are tied.
THE OCTOBER EMPLOYMENT REPORT was a stunner. Companies added 284,000 employees to their payrolls, bringing job growth so far in the second half to 247,000 per month, faster than the 233,000 monthly pace in the first half. Manufacturers beefed up their payrolls by the most in nearly eight years, indicating that strong factory output in October continued to push up the capacity utilization rate, which was already at a 2 1/2-year high. The data, along with upbeat October reports from retailers and the nation's purchasing managers, suggested that the economy had not slowed one iota as the fourth quarter began.
More important, the unemployment rate dropped to a 24-year low of 4.7%, from 4.9% in September. And the rate is set to fall still further. At the 1997 growth rates of employment and the labor force, the unemployment rate will fall to 4.5% by January, 1998. That would assure further upward push on wage growth.
Already, wage growth is accelerating noticeably. Average hourly earnings of production workers rose 0.5% in October. And since July, wages have risen at a 5.7% annual rate, the fastest in any three-month period since 1983. That pace probably overstates the trend, but even measured from a year ago, wage growth is now 4.2%, the fastest since 1989.
THE PAY ACCELERATION is notable because it is led by services, where wages and prices are less influenced by foreign competition than they are in manufacturing (chart). Factory pay has risen 3.7% from a year ago, actually down from the 3.8% increase during 1996. But service-sector earnings are now growing at a 4.4% pace, up from 4% in 1996 and 3.3% in 1995. Service jobs are 76% of private-sector payrolls.
The speedup in service wages has been broad. Over the past year, the transportation and public utilities grouping has accelerated the most, followed by the finance, insurance, and real estate category. The quickening pace in both retail and wholesale trade has been ongoing since 1995. Moreover, outside of finance, services generally are not bastions of high-tech efficiency.
To be sure, robust productivity gains in the second and third quarters have offset the impact of faster pay growth on unit labor costs this year. But with pay growth accelerating, 1998 may be different. Already, productivity growth appears set to fall off in the fourth quarter, even if economic growth holds at the strong 3.5% pace of the third quarter. That's because the October data suggest that hours worked are picking up. Next year, the increasing difficulty in finding suitable workers is likely to weigh on efficiency, and when the economy does eventually slow down, productivity gains could throttle back sharply at a time when labor costs are rising rapidly.
FOR NOW, THAT SLOWDOWN is nowhere in sight. Job growth and pay gains will continue to fuel consumer purchases, housing demand, and capital spending this quarter. And despite recent market gyrations, financial conditions remain favorable. The Standard & Poor's 500-stock index is up 24% this year as of Nov. 12, and long-term interest rates have fallen by a percentage point since April--and by a half point since early September.
As a result, strong demand for goods is boosting manufacturing. Factories added 54,000 workers during October (chart). The gain was the broadest since late 1994, and the three-month advance was the largest since early 1995. Also, the factory workweek rose to 42 hours, from 41.8 in September. It all means that industrial production posted another healthy increase of at least 0.5% in October, suggesting that last quarter's acceleration in output is continuing this quarter. Output is growing nearly twice as fast as companies are adding new capacity. And if demand doesn't cool off, production and distribution bottlenecks will emerge.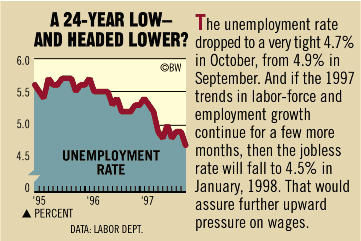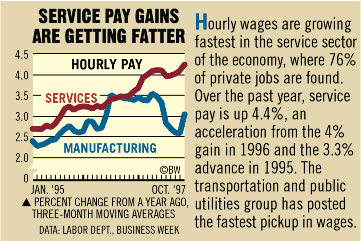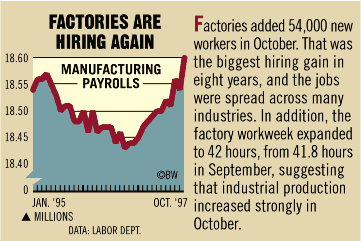 Because domestic demand is so strong, waiting for the Asian fallout to slow overall spending could be like waiting for Godot. According to economists at J.P. Morgan & Co., if U.S. export growth to all of Asia, including Japan, slowed by a substantial five percentage points, the direct subtraction from U.S. economic growth would be a bit less than 0.2 percentage points. Of course, current projections of the hit to the U.S. economy vary among economists, with most agreeing that at least some small disinflationary impact from cheaper imports will be part of the effect.
If the Asian rumble turns out to be trivial and the economy's miniboom continues into 1998, then Wall Street's current worries are centered on the wrong bogeyman. Right now, the financial markets are priced for no Fed tightening, not only for the rest of this year but into 1998 as well. At the same time, the October job report strongly argues that the Fed may have made a policy mistake by not tightening a touch more in 1997 when it had the chance. If so, correcting that miscalculation could come at a heavy cost to both investors and the economy.
Before it's here, it's on the Bloomberg Terminal.
LEARN MORE