The Rails: Trouble Behind, Trouble Ahead
UP's pileup is costing billions--and may nudge up prices
Wendy Zellner
For most Americans, the service meltdown on the Union Pacific Railroad seems like an obscure event--like a war between two far-off countries whose names one can't keep straight. But after more than three months of tying up deliveries of everything from scrap metal to flower pots, UP's struggle is sending aftershocks through the economy. The Federal Reserve, in its October "beige book" report, says that in parts of California, "generally positive views of the economy were tempered by many reports of shipping bottlenecks." In the Pacific Northwest, the Fed reported that "capacity constraints...particularly in rail transportation, could restrain further growth."
The toll is mounting. Economist Bernard L. Weinstein at the University of North Texas figures that the UP mess is "at least a billion-dollar-a-month problem" for the country. That's manageable in a thriving $8 trillion economy. But Weinstein believes consumers will eventually feel the pinch in the form of higher prices for everything from electric power to chicken.
The congestion and shortages are raising broader concerns about the health of the nation's transportation infrastructure and its ability to support further economic expansion. Indeed, with more and more companies relying on just-in-time inventory systems, transportation blips hit the economy harder. "There is an ongoing discussion about whether the transportation system has enough capacity in general," says Linda J. Morgan, chairwoman of the federal Surface Transportation Board, which oversees the rail industry. On Oct. 31, the board declared an unprecedented "transportation emergency" in the West and ordered UP to temporarily open up some of its Houston business to competition. Regulators will review the order on Dec. 3 to determine if they should take more drastic action.
That can't come too soon for Ken J. Legler. The transportation bottleneck gripping Houston and extending to California is already painfully costly for his Houston Wire Works, which makes metal racks for transporting bottled water. Legler figures his shipping costs soar 25% when he ships by truck. And with rivals nationwide, he doesn't dare raise prices. "I can't continue to eat the cost," he moans. To stay profitable, he's considering reducing his contributions to his employees' retirement plan.
Legler is just one of hundreds of shippers hurt by UP's gridlock. And for every shipper, there's a customer at the other end seeking another supplier or going without needed materials.
It all started with UP's bungled efforts to merge with Southern Pacific Rail Corp., which it acquired last fall. Since then, backlogs and capacity crunches have developed among rival railroads and truckers already struggling to keep up with strong demand as the economy has continued its seven-year expansion.
Trucking companies such as J.B. Hunt of Arkansas and MS Carriers of Memphis have been turning away business for lack of drivers or equipment. In Florida, hundreds of miles from the UP system, tomato grower Jay Taylor, president of Taylor & Fulton Inc., worries that the extra demand for trucks in the West might soon drive up freight rates for all customers. Meanwhile, containers are stacked four deep at the ports in Los Angeles and Long Beach, which are already hampered by labor shortages and surging imports from across the Pacific. UP rival Burlington Northern Santa Fe Corp. could take more business--but it's short of locomotives.
BUMPER CROPS. Dallas-based Union Pacific Corp., parent of the nation's largest railroad, insists there's light at the end of the tunnel for UP. CEO Richard K. Davidson says a cleanup by yearend is still in sight. The railroad has leased about 100 locomotives since August, and it's bringing back retired workers and borrowing employees from other railroads. "The railroad is flowing pretty fluidly across the southern tier now," insists Davidson, whose timetable meets widespread skepticism from customers.
Still, Davidson would be the first to admit there's more to do. With record or near record harvests of wheat, soybeans, and corn, UP would have been hard pressed to meet demand under any circumstances. On top of that, the system is pressed by holiday shipments and record imports from Asia.
Some shippers wonder if UP cut too deep as it worked to absorb two mergers in the past two years. But many railroads have slashed jobs and boosted productivity since rail deregulation in 1980. "It was downsizing and getting rid of people that made these stocks such darlings of investors in the first half of the '90s," says rail analyst James M. Higgins at Donaldson, Lufkin & Jenrette Inc. "Now, we're at a period where the thing that was supposed to keep that going--mergers--isn't working over the near term."
THE OTHER SHOE. Consolidation was supposed to make things better, or so said the dealmakers. "We have the bulk of our efficiency and service improvements ahead of us," insists Robert D. Krebs, CEO of Burlington Northern. But the system's current woes are fueling demands by some shippers for Congress to create more rail competition. "The long-term solution is more choices," argues Michael Petruccelli, director of chemicals distribution for PPG Industries Inc. of Pittsburgh. He figures the $7.2 billion company has lost only $1 million so far due to delays from UP tie-ups, but he's worried about future problems. "This thing has the potential to hurt us," he says. "It's like a shoe waiting to drop."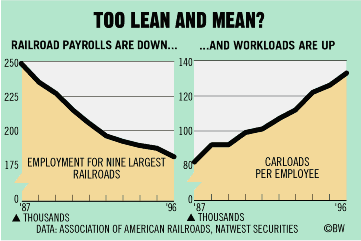 Rail customers are scrambling to minimize the impact further down the supply chain. Indeed, retailers such as Wal-Mart, Sears, and Mervyn's report few, if any, delivery problems. At corn-refiner Cerestar USA Inc., some rail shipments of its syrups, starches, and other products are taking about three times the normal schedule, says transportation manager Robert A. Sieffert, and the extra cost to Cerestar is over $200,000 so far. Still, he predicts little impact on sales.
Few producers think they can pass on higher costs, though, thanks to competition from overseas or from rivals unaffected by UP's trouble. And while some are trying to reduce their dependence on Union Pacific, that's not an option for most. All they can do now is hunker down and wait for this storm to pass.
Before it's here, it's on the Bloomberg Terminal.
LEARN MORE