The Buck Keeps On Buckin'
Is the dollar now so strong that it threatens U.S. growth?
Dean Foust
For most of his first term, President Clinton tried in vain to reassure currency traders that he wasn't looking to drive down the dollar to persuade foreign nations to open their markets to U.S. goods. Oh, how times have changed. After sinking to postwar lows against the Japanese yen in 1995, the greenback has rebounded--and remains so strong that it now threatens to pinch U.S. exports. The dollar "is going in the wrong direction as far as we're concerned," grumbles Ford Motor Co. Chairman Alexander J. Trotman.
But the bad news for U.S. exporters is a blessing for other nations, particularly Mexico and those in Asia, which have devalued their currencies in hopes of exporting their way out of economic distress. Lawrence L. Kreicher, chief economist for Alliance Capital Management, predicts that at the dollar's current level, U.S. exports abroad will rise only 6% in 1998, compared with 12% this year. Meanwhile, in the booming U.S. economy, the appetite for imports is expected to grow another 20% to 25% in 1998. While lower-priced imports will help to keep inflation in check, they may play havoc with U.S. companies' profits and the job market. At the very least, one result will be a further widening of this year's projected $200 billion trade deficit in goods alone to as much as $250 billion next year.
But even that estimate may prove too low if the dollar keeps climbing, as many currency pros are predicting. After all, the nearly seven-year-old U.S. expansion shows few signs of waning, and the federal budget deficit has been all but erased. Moreover, Asia isn't the only region where U.S. trading partners are struggling: Europe's economies remain largely stagnant and governments are still fumbling to create a common currency by 1999. So Wall Street traders see nothing but a rising dollar. "I can't see any currency around the world gaining on it," says Michael R. Rosenberg, director of international fixed-income research for Merrill Lynch & Co.
Certainly, it won't be the yen--at least, not anytime soon. Currency experts say the turmoil in Thailand, Malaysia, and now South Korea reduces the odds that Japan will shake out of its current funk in the near future---an outlook that should scare investors out of Asia and into the U.S.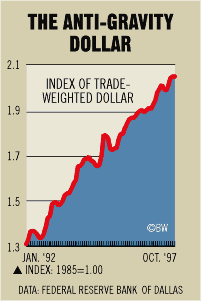 What's more, Wall Street is discounting earlier talk that Tokyo's troubled banks might start pulling out billions invested in U.S. Treasuries to shore up their tattered balance sheets. To the contrary, when Tokyo's long-awaited deregulation of financial institutions occurs next spring, traders expect a stampede out of Japanese bonds that pay less than 2% and into U.S. bonds yielding around 6%. "The only thing keeping Japanese balance sheets glued together is their foreign investments," says David Durrant, currency strategist with I.D.E.A. Inc. The bottom line: The dollar could rise from 125 yen to 130 by Christmas and 140 next summer. That could drive the U.S. trade gap with Japan--$45 billion this year--to a new high.
Long term, a slowing economy and soaring trade deficits could impair Clinton's chances for new trade deals. But as the only global engine of growth that's firing, that may be the price the U.S. has to pay.
Before it's here, it's on the Bloomberg Terminal.
LEARN MORE