Still Plenty Of Juice In Citrix
by
Down and almost out in February--at 10 a share--Citrix Systems (CTXS) has been on a tear: It roared to 30 in May, 50 in the summer, and 77 on Nov. 11. Bailout time? Not a chance, say Citrix bulls, who believe it will hit 100.
Citrix, which went public in 1995 at a (split-adjusted) 7 1/2 a share, pioneered a technology that added multi-user capabilities to Microsoft's Windows NT 3.51. Citrix made Windows applications accessible to non-Windows systems, bundling it into a package called WinFrame. Microsoft took a 6% stake in Citrix. But on Feb. 25, it told Citrix that future Windows versions would contain Microsoft's own version of WinFrame. The next day, Citrix fell 60%.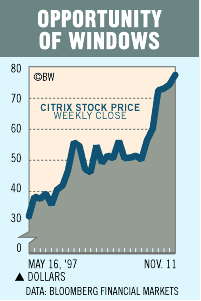 But by May, Microsoft had changed its tune: It signed a five-year pact with Citrix, making it a provider of thin Windows client/server solutions. Microsoft paid Citrix $75 million for research plus $100 million in royalties for putting its technology into Windows NT packages. Citrix has since signed licensing deals with Hewlett-Packard, Compaq, and Unisys.
"Opportunities for the company have increased, and so we expect the stock to continue to outperform," says Chris Galvin of Hambrecht & Quist. Based on what he calls "blow-out September-quarter results," Galvin has raised his 1997 earnings-per-share estimate from $1.20 to $1.46 and has upped his 1998 number from $1.75 to $2.10.
Before it's here, it's on the Bloomberg Terminal.
LEARN MORE