Has Gold Lost Its Luster For Good?
Inflation's demise--and huge state sales--scare off the bugs
Joseph Weber
Soon after the stock market crash of 1987, gold soared to nearly $500 an ounce. Three years later, during the gulf war, another market crisis and another rally in gold. Today, all the ingredients are there for another crisis-driven gold boom--the market shock of Oct. 27 and its aftermath, and a renewal of tensions in the gulf. Yet gold has been a dud--barely budging from its dozen-year low of $309 an ounce.
The slide in gold prices has tolled the death knell for one of the financial world's long-teetering axioms--that gold glows in periods of distress. Indeed, the failure of gold to rise as stock markets tanked may mean that gold is in a bear market that may get even worse. For one thing, inflation is pretty much out of the picture. So for investors and central banks alike, just about the only gold that makes sense nowadays is implanted in their molars. "Gold has lost its magic for many people and many governments," says Dale W. Henderson, a Federal Reserve Board economist.
One factor that has put particular pressure on prices is the wholesale dumping of gold from the vaults of a host of nations. Since 1989, governments have sold some 64 million ounces of gold, worth some $25 billion. Just last year, the Netherlands sold 10 million ounces, a full third of its hoard. Instead of counting on gold to back their currencies during fiscal distress, these governments are relying on their economies and their holdings in the U.S. dollar--a sensible choice, in the view of Henderson and other economists.
The gold-selling mania has swept across the globe. In the last couple of years, Belgium and the Netherlands--perhaps gearing up for the switch to a European central bank--have been heavy sellers. So has Australia. And Switzerland roiled the markets by floating a proposal on Oct. 24 to sell more than half its gold holdings--equivalent to roughly 60% of the annual production of the world's gold mines.
CLOSED MINES. While the Swiss plan will be subjected to a referendum, probably in 1999, many other governments have been making unilateral sales. In the first half of this year alone, some 14 central banks were sellers, says Stewart Murray, chief executive at Gold Fields Mineral Services Ltd. in London. Speculators, he notes, have been selling short in expectation of more sales from central banks. He adds that Malaysia, Indonesia, and Thailand have stopped buying gold for jewelry making, and selling pressure is mounting in those countries. With their currencies recently devalued, the cost of gold is just too high.
Along with driving down gold prices, the government sales are playing havoc with gold-mining companies. Some are being forced to cut production, with some even closing mines. If gold prices remain stagnant or slide further, some smaller gold-mining companies are likely to disappear. Larger companies such as Barrick Gold Corp., a Toronto-based producer, see such consolidation as a buying opportunity. As it shutters five high-cost mines, Barrick is relying on a mine in Nevada, where it costs just $154 an ounce to produce gold, and it recently acquired site in Peru where the cost of production is expected to be as low as $50 an ounce.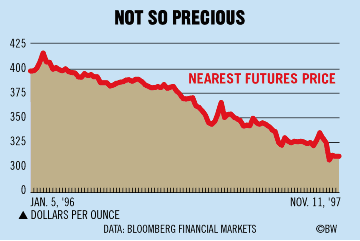 Certainly, the stock market regards the gold producers as less than lustrous. The Toronto exchange's Gold & Precious Minerals Index is off some 37% this year. "I don't think the worst is over yet," says Leo J. Larkin, a metals analyst with Standard & Poor's Corp. His forecast: Gold could drop as low as $270 an ounce, roughly the average cost of production worldwide. But gold "bugs" point to several factors that could shore up prices. They note that hard-pressed Asian economies could eventually become net buyers of gold, if only in pursuit of an asset more secure than their own debased currencies. Any hint of reignited inflation could drive gold bugs into the open again. "We find it hard to believe that something that has been a valued asset and a valued reserve asset for 2,000 to 3,000 years has suddenly gone out of fashion," says Randall Oliphant, Barrick's chief financial officer. But if the eager sellers in government and some of their advisers are right, fashion may indeed become the only real use for gold.