Drug Costs Just Won't Go Down Easy
Price hikes are slower, but more pills are prescribed
Amy Barrett and Keith H. Hammonds
Back in 1992, candidate Bill Clinton demonized drugmakers as the greedy culprits behind soaring health-care inflation. Stung, the industry promised to scale back its annual price increases of 7% to 8%. And lately, prices have inched up by less than 3% a year.
Why, then, are health insurers such as Aetna, PacifiCare, and Oxford suddenly blaming soaring drug costs for their disappointing profits? The total tab in the U.S. rose 13.7%, to $93.3 billion, for the 12 months ended Sept. 30, according to research firm IMS America. That's twice the increase health-maintenance organizations expected six months ago, and carriers expect the unwelcome torrent will persist through 1998.
THEY ASKED FOR IT. There's a simple reason behind the surprise rise: Patients are using more drugs than ever--and often pricier ones. Pharmacies have been filling 5% more prescriptions than last year, and more of them are for high-priced new drugs. Eli Lilly & Co.'s schizophrenia drug Zyprexa and Warner-Lambert Co.'s Type 2 diabetes drug Rezulin should produce 1997 sales of $700 million and $400 million, respectively, estimates Cowen & Co. analyst Stephen M. Scala. Sales of cholesterol-reducing drugs such as Merck & Co.'s Zocor and Warner-Lambert's Lipitor are up 37%.
Ironically, these new drugs are just what the managed-care companies ordered. For years, they argued that more therapeutic-drug use would lower overall medical expenses. Studies by the Institute for Clinical Outcomes Research have demonstrated that up-front investments in disease management, including drug therapies, can reduce overall medical costs for some diseases by 30% to 50%.
In practice, though, managed care hasn't seen a clear payback. Few managed-care plans have the data-management systems, or the cooperative relationships with doctors, that would let them identify which patients will benefit from more intensive, and expensive, drug regimes.
At the same time, HMOs have failed to anticipate drugmakers' success in marketing new therapies. Pharmaceutical companies have bulked up sales forces and are expected to spend over $1 billion on consumer advertising this year, up from $345 million in 1995, according to market-research firm Scott-Levin. The result: "There's a whole new generation of patients coming in and telling prescribers what they want," says P. David Jarry, a medical director for Fallon Healthcare System in Massachusetts.
Often, doctors and patients demand more expensive new treatments. Consider Warner-Lambert's Rezulin. Older treatments for diabetes cost pennies a day, but Rezulin costs about $5. HMOs argue that many Type 2 diabetes patients do just as well with the older sulfonylureas. Warner-Lambert says clinical studies show that Rezulin taken in combination with sulfonylureas is more effective in controlling the disease with fewer side effects.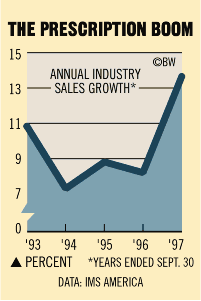 SHORT LISTS. Soaring sales of costly new products are lifting drug company results. Net income from operations at Lilly, Warner-Lambert, and Merck should jump from 15% to 20% this year, according to a September report by Cowen & Co. At HMOs, though, drug expenses are shaving up to half a point off pretax margins that range from just 3% to 5%. That's why some HMOs are trying to rein in costs. PacifiCare has new incentives for doctors to prescribe cheaper drugs, helping to pare annual pharmacy-cost increases to 7%, from 14% earlier this year. Fallon sends doctors monthly reports on drug usage.
Managed-care companies also will continue to tighten their lists of drugs. Patients of United HealthCare Corp. now pay $10 for approved drugs, $5 for generic substitutes, and $25 for products off the list. For many newer drugs, though, there is no generic alternative. And drug companies still have
a raft of possible stars in their pipelines: Pfizer Inc.'s Viagra, for erectile-tissue dysfunction, could be a $1 billion-a-year product. Drug prices may be stable, but actual drug costs should keep soaring.