Commentary: The Labor Pool Is Deeper Than It Looks
Christopher J. Farrell
Is the U.S. economy running out of workers? In October, the nation's unemployment rate dropped to 4.7%, its lowest level since 1973. Businesses are complaining bitterly about how difficult it is to fill vacancies. And according to Federal Reserve Board Chairman Alan Greenspan, labor markets are so tight that wage inflation is inevitable if the current growth rate continues.
Despite these fears, however, economic growth is not about to be derailed by labor shortages. Women continue to join the workforce in record numbers. The U.S. is still a magnet for skilled immigrants looking for work. And the proportion of older men who are employed or else looking for work has started to rise, reversing one of the most dramatic social changes of the postwar era (chart). "The early-retirement trend among older American men certainly appears to be over," says Joseph F. Quinn, an economist at Boston College.
These groups--women, immigrants, and older men--have helped the U.S. labor force increase at a 1.5% annual rate for the past 18 months. That's well above the rate of 1% or so that most forecasters thought possible. Indeed, this surge of new workers is a main reason why the U.S. has enjoyed strong economic growth with a low rate of price inflation.
EMPTY-NEST MOMS. And there is plenty of room to run. For example, about 60% of adult women now participate in the labor force, up from 58% in 1990. But that's still below the 77% of men working or looking for work. "I expect women's and men's labor-force participation rates to converge," says Heidi Hartmann, director of the Institute for Women's Policy Research. Many women who left the workforce when they had children may return as their children get older. "These women have had a decade or so of work experience, and they may well want to work another 20 to 30 years," muses Olivia S. Mitchell, economist at the Wharton School.
At the same time, the attitude of older men toward work is changing. For most of the five decades since World War II, a number of factors combined to draw aging workers, mainly male, out of the job market. Among them: mandatory retirement, Social Security's strong work disincentives, and rules that were built into most traditional pension plans that made it easy for workers to retire before age 65 and penalized those who stayed too long on the job. The result: By 1985, only 33% of 65-year-old men were in the labor force, down from 71% in 1950.
But the financial incentives to drop out of the workforce have weakened since the mid-1980s. The mandatory retirement age has been outlawed for a vast majority of workers. And the recent shift toward defined contribution savings plans, such as 401(k)s, rewards people who can stay employed and keep adding to their retirement accounts.
Older men seem to be responding. The labor-force participation rate of men 55 to 64 started flattening out about a decade ago and has sharply risen since 1994. Today's elderly workers are better educated and in far better health than earlier generations. In addition, working with computers is less physically taxing than laboring all day on an assembly line. "The baby-boom generation has a much greater stock of human capital and skills than older generations, and they will be able to use these skills well into their 60s," according to Richard V. Burkhauser, an economist at Syracuse University.
READY TO ROLL. The demand for older workers is up, too. "Companies are finding that over-55 workers are both experienced and hard-working," says John A. Challenger, executive vice-president at Challenger, Gray & Christmas Inc., an international outplacement firm.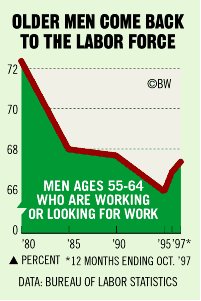 Other forces are feeding the labor supply. The number of working-age immigrants rose from 515,000 in fiscal 1995 to 670,000 in 1996, with arrivals finding eager employers everywhere from Silicon Valley to city convenience stores. And rising levels of education in developing countries will make them more valuable as a source of workers.
Of course, more could be done to encourage more people to work. Despite improvements, federal limits on earnings and tax policies still place a heavy burden on anyone wanting to work past 62. And the recent trend toward tightening up on immigration could backfire. Nevertheless, it's clear there is a lot of room for the workforce to grow--and that goes for the economy, too.
Before it's here, it's on the Bloomberg Terminal.
LEARN MORE